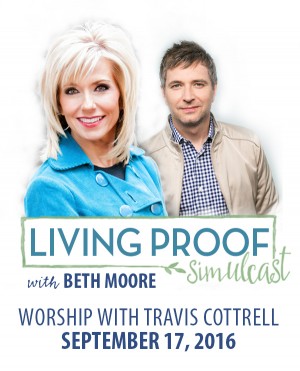 Throughout 2016, Beth Moore's Living Proof Tour is heading to 11 American cities. Sharing wisdom from years of writing bestselling bible studies alongside worship from Travis Cottrell, the event looks to be one not to miss.
However, for a lot of us, it just isn't possible to find the time or finances to head to a big conference. Fortunately, Lifeway are offering the opportunity to enjoy teaching from Beth Moore and worship from Travis Cottrell, from the comfort of your own church.

The event will be streamed live from Ohio on September 17th 2016 so you and your church can attend, on the day, or host your own event up tpo 30 days afterwards, via HD internet simulcast technology.
The Living Proof with Beth Moore simulcast includes everything you need to enjoy a weekend of fellowship with women from your church and community.
When you register for the simulcast you will have access to:
Three teaching sessions featuring Beth Moore and worship with Travis Cottrell and the Living Proof Live praise team
A personal simulcast concierge to help answer questions and give support throughout the planning process
An exclusive host-only website that provides helpful promotional and planning tools
LifeWay's technical support team before, during, and after the event
On-demand access for up to 30 days AFTER the live event
Built in DVR option to allow access in any time zone
Closed-captioning, American Sign Language, and Spanish feeds available at no additional cost
Optional opportunities for selling LifeWay products at your event
Concerned about the planning involved? Not a problem! Exclusively available for Simulcast hosts: a private website full of different resources that can use to plan and promote your event AND access to a Simulcast Specialist, an expert concierge, fully trained and ready to answer any questions you might have about the event and experience.

Frequently Asked Questions
We can't schedule our event for September 17th, can we still participate?
Yes! All participants have access to the simulcast for up to 30 days after the live event occurs. You can choose to host the event on an alternate date within the 30-day time frame. The simulcast will not be available after October 17, 2016.
In fact, since the event takes place from 9.30 am – 4.15 pm (Central Time), approximately 3:30 – 10:15 pm British summer time, it may be advisable to schedule your event after the live recording.
What is the topic for the simulcast?
We do not know in advance what the topic is for this event, but the content will be a unique message for simulcast participants. If topic information is given beforehand, we will inform simulcast hosts.
Will host churches be required to set their own ticket prices?
Host Churches may choose if they want to sell tickets or offer their simulcast for free. Host churches have the freedom to determine their event ticket price. If multiple churches in your area are registered to host, we recommend that you work with the Women's Ministry Leaders to determine a set price for all events so that you are not competing with one another.
What is an Eden Church account? Can my church sign up?
If you open a Buy Now Pay Later account with Eden.co.uk you will be able to order online, by fax or by phone, receive your delivery and then have up to 30 days to pay.
If required, we can send the invoice directly to your accounts department or church treasurer.
If you are ready to open a Buy Now Pay Later Account today or want to find out more – contact our customer service team:
By phone: 0800 612 2186
or by email: service@eden.co.uk
Lines are open 8.30am – 6pm Monday to Friday.
August 2nd, 2016 - Posted & Written by Laura White