Live Second is the daily devotional that uses smart phones and social media to connect you with what it means to put Christ first.
If you're looking for a new approach to your daily devotions and to make better use of the power of your smart phone, Live Second is the devotional for you.
Ground Breaking Social Devotional
It's the joining of testimony and technology that makes this devotional different and the undoubted trail-blazer for things to come.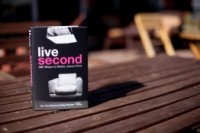 Each weekly session of five short thoughts and calls to a more Christ-centred living is headlined with a QR (Quick Response) code. Scan it with your phone or type the matching URL (internet web address) into your computer and you get to see and hear a real-life, life-change testimony.
Then after you've watched a video testimony, read the Bible passage and reflected on what you've learnt through thought-provoking questions, you have the opportunity to share. With the #tag ('hash tag') provided you can join the online conversation on Tweeter about today's devotion, reading what other people are saying and adding your own thoughts. It's like an online small group you can join every day.
You even get short cuts to web based Bible text and other online resources – so you could run your whole devotional from your phone while on the move or away from your home base. That's what makes 'Live Second' a trail-blazer, you are connected to a community.
365 Dynamic Days to Put Christ First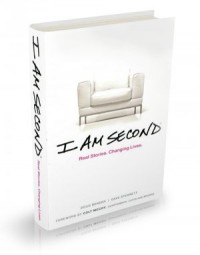 Live Second has grown out of the 'I am Second' initiative – it's a day by day movement to put Jesus first, giving you 365 ways in 365 days to do just that. So be warned: this isn't your average read-and-return-to-the-drawer daily devotional. Expect to put what you read into action the same day you read it. That's what putting your self second to Christ is all about.
If you've read Dave Sterrett and Doug Bender's I Am Second (and if you haven't, get it here – or at least watch the video clip) then you'll know what defining yourself in relation to Christ can do for you. Their on-going project collects the life transforming stories of celebrities, sports personalities and ordinary everyday men and women who've put Christ first.
Effective as Personal or Group Studies
Reading or viewing other people's life-changing stories is only the beginning. Live Second sets you the task of understanding how that dynamic change happened and challenges you to do the same.
Each day, the devotional asks you pretty direct questions about where you are with God, what the Bible has to say about what you're doing with your life, and what you're going to do about changing all of that.

You're probably expecting to follow this devotional privately, but the authors are convinced that we all work better with the support and encouragement of others. So they've set up Live Second to double as a year long group study devotional.
Tweet Your Encouragement to Others
You could use it as the source material for a Christian union, prayer group or other Bible study gathering – maybe once a week, with the other daily studies done privately by individual group members.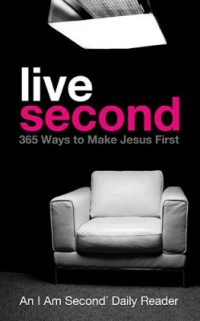 Keeping that sense of community, there's even a Twitter #-tag for each day's page inviting you to comment, share in the discussion and encourage others to join you in following Christ more closely.

It might not be the cheapest devotional on the market, but it is a smart, mature looking hardback – and one of the few devotionals that look OK for men to be seen with. A lot of the very well produced videos are a bit... transatlantic, but that should change as more people around the world upload their own life change experience to the I Am Second website.
But the best and unique thing about it is the way it harnesses today's technology and social media. Get this book and you'll not only have the first in a new generation of interactive, social media devotionals, you'll also know that when you're trying to live a better life you don't have to make it on your own.
January 25th, 2013 - Posted & Written by Les Ellison