What do your kids want to be when they grow up?
• the Premiership's top goal-scorer
• the first astronaut to walk on Mars
• to compete at Tokyo 2020 Olympic Games
• to become a compassionate world leader
The Zonderkidz Biographies are a wonderful collection of books aimed at 9-13s which tell the real-life stories of Christian Super-Stars. So whatever your kids are aspiring to become, you'll find a biography here to inspire both their passion and their faith.
For Your Wanna-Be Footballer...
Towards the Goal: The Kaka Story
The 2007 FIFA World Player of the Year was once told by doctors he'd never play football again. The young Brazilian boy from São Paulo clung to his faith, and with hard work, determination and humility become one of the greatest footballers in history.
This is his amazing story, including eye-popping photos of Kaka's childhood, recovery and amazing skill. Your Saturday footballer and sticker collecting fanatic will find motivation and energy from this easy-read.
For Your Wanna-Be Rock Star...
Breaking Through Grace: The Bono Story
The young lad who grew up in politically unsettled Dublin, quickly learnt the value of faith. So when U2 took off as a global mega-band, the lead singer kept his feet firmly on the ground. Bono has performed to millions, sold thousands of albums, and won countless awards.
But in his heartfelt biography, he says that his greatest achievements have been fighting for healing and justice in Africa. His story puts compassion and faith above fame, wealth and popularity. Your hairbrush singing, would-be guitar hero will be grounded by Bono's humble life story.
For Your Wanna-Be Olympian...
Speed to Glory: The Cullen Jones Story
Winner of 2 Silver Medal and a Gold Medal at London 2012, and another Gold Medal in Beijing 2008, Cullen Jones is more fish than man – partly because he is the second fastest 50 metre freestyle swimmer in America today, but also because he's a Christian.
Yet at the age of 5, Cullen Jones almost drowned. This inspiring story shows how, with his faith, Cullen overcame his fear, discovered his talent and strived to become the greatest.
Heart of a Champion: The Dominique Dawes Story
Three-time Olympic Gymnastics Champion (Barcelona 1992 – bronze, Atlanta 1996 – gold & Sydney 2000 – bronze) made history as the first black person of any nationality to win an Olympic gold medal in gymnastics.
Now she inspires children across America with her personal motto – "determination, dedication and desire". This book is a motivational kick up the backside for your future Olympic athletes dreaming of competing in Rio 2016.
Swimming With Faith: The Missy Franklin Story
Missy Franklin is on the most talented swimmers in the world. She is a four-time Olympic gold medalist and currently holds the world record in the 200-meter backstroke and American records in both the 100-meter and 200-meter backstroke.
She was Swimming World's World Swimmer of the Year and the American Swimmer of the Year in 2012.
For Your Wanna-Be Astronaut...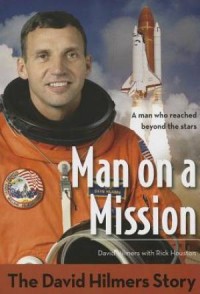 Man on a Mission: The David Hilmers Story
This man has been on 4 space missions, orbited the earth 264 times and logged over 493 hours as a Spacecraft Communicator (CAPCOM). His time in space taught him there was to more to life than floating, and in 1992 he retired to become a doctor. Now David lives an extraordinary life as a missionary around the world.
His achievements are numerous, but David never lost sight of God and has found happiness not through reaching the stars, but by helping people who are in need. Teach your kids the value of finding God's purpose and direction in their lives (and that becoming an astronaut is tough, but achievable).
And There's More ...
Other titles in the Zonderkidz Biographies Series to get your 9-13's on fire with passion, determination and faith include:
For Your Wanna-Be World Leader... Gift of Peace: The Jimmy Carter Story.
One of America's most beloved Presidents, Jimmy Carter led his nation with compassion and a level, faith-filled head which will inspire your little politician to always remember to act with love rather than selfishness.
For Your Wanna-Be Race Car Driver... Driven by Faith: The Trevor Bayne Story.
He is the youngest race car driver to win the Daytona 500. From go-karts to NASCAR's biggest race, Trevor is a young man unafraid to share his faith and his true story will blow racing enthusiasts away.
For Your Wanna-Be Extreme Sports-Star... Reaching New Heights: The Kelly Clark Story.
About a young girl who found Jesus at the bottom of a 'half-pipe' and became one of the world's greatest Snowboarders before her 18th birthday.
For Your Wanna-Be NBA Basketball Player... The Admiral: The David Robinson Story.
This incredible story that documents the life of the NBA Basketball Superstar who rose through the sporting ranks with faith at the centre and humility guiding his words, actions and sportsmanship.
You can find even more inspirational true life stories in our Christian Biography for Children department.
February 1st, 2013 - Posted & Written by James Warwood