With so many Study Bibles to choose from, what makes the new NLT Chronological Life Application Study Bible from Tyndale, stand out in the crowd?
It's not often that the layout, look or features of a Bible really surprise me. I'm sat in my home office writing this. Just across from me are 3 shelves holding more than 40 Bibles of every translation, colour, size and purpose. My job affords me the luxury of never being far from God's Word and being amongst the first to see each new inception of the world's bestselling book.
Today, the NLT Chronological Life Application Study Bible arrived, and I was surprised in more ways than one. Firstly, its presentation. The time and care taken by its creators has produced something that looks beautiful at first sight, out of the case (cased hardback is unusual) and still holds the eye even with the jacket removed. And if I thought the outside of this Bible was special, I was in for a real treat when I opened it up.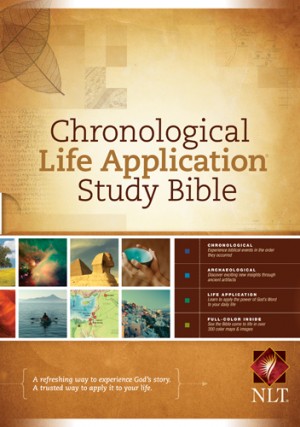 It's a Chronological Bible, which means that the text is in order of when the biblical events happened. So you start with creation but are then thrust into the world of Job right after the death of Joseph in 1850 BC. The print is clear, with the New Living Translation text in a size 11 font and the Life Application Notes in size 9, clearly printed on really good quality paper.
In fact, everything about this Bible shouts quality. From the tactile inlay on the front cover and first page, through the full colour presentation page, colour maps, blocks of insight and full colour photographs to the devotional texts and timeline, all come together to make this Study Bible exceptional. But enough about how beautiful it looks. Did I mention how nice it feels to hold, and how does it compare to my everyday Study bible?
I've never used a Chronological Bible for my own devotional readings. I've referenced back to one, so it's not totally alien, but still takes a little getting used to. I went straight to Amos (760 BC), as it's my favourite book, and began to read. It took me a little longer than normal as this Bible has so much additional reference material to help you put the verses into context. I found this more than just refreshing, I found it encouraging and enlightening which, for me, was more than just a good result. The Chronological aspect may make it difficult to follow in a group or church setting, but with its comprehensive index and concordance, it's not eliminated from those purposes. It just takes a little more time to find the start of each reading.
The longer I spend with this new NLT, the more I like it and the more I want to share it with friends. To say that what Tyndale have produced is good, would be a massive understatement. It's an addition to your library that I'd encourage anyone to have, especially if you're looking to revitalize your devotional time. With so many positives, I have found only one draw back... no ribbon marker. Still, nothing's perfect, but this Bible really is pretty close.
Well Done Tyndale! The NLT Chronological Life Application Study Bible really is a 21st century Bible. Even with its extra long title, it's still a 10 out of 10!
October 11th, 2012 - Posted & Written by Jo Pountney