If you have never heard of the I Am Second movement then where have you been! If you are looking for a book that will bring you to tears, reflect on your life choices or fill you with hope then this is the one for you.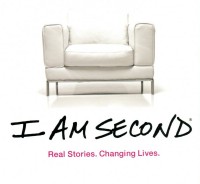 I Am Second, the brainchild of Doug Bender and Dave Sterrett two men with a common goal – for people to stop being first in their lives. Yes, it does sound controversial and extremely counter cultural but at the end of the day being a Christian is counter-cultural, it is about becoming second and putting Jesus first.
Both have experience in speaking and ministering to people, people who have found they want to take a step back in the line for Jesus and others. You can also hear their own 'Second' stories on the website.

The book itself contains 20 life-changing stories of transformation but not in a cheesy 'isn't life now perfect' way but in a hopeful and inspirational way that following Jesus doesn't always remove the problems, a consequence of living in a fallen world, but that putting Jesus first will bring new life and hope.

Many of the stories included in the book feature some familiar faces from Michael W Smith to sports stars (many American sports and a even a UK skateboarder) even the ex-lead singer from heavy metal band Korn, Brian 'Head' Welch. Not everyone will be recognisable but the issues that are dealt with strike a chord with prevalent social struggles such as addiction, adultery and abuse. Each story depicts a snapshot of the life both before and after becoming 'second' captured in a handful of pages.

One of the most powerful things about the I Am Second stories is the openness and honesty of people who have sat down in the iconic white chair and laid their hearts on the line, not for self promotion or pity but to show the power of God's love to transform lives, to inspire and encourage others in their struggles.

One of the unique elements of I Am Second is its movement as a whole. The book itself is full of interaction, an opportunity to connect with its readers not just through words but through the films of each of the stories. In the book you get a QR code with each story and the website to find the person's video. Watching the videos will, I warn you bring tears to your eyes, striking testimonies of God's grace for broken people; people broken as the result of others and those who ended up in the darkest of places as a consequence of bad decisions. The book includes a colour photo section of those who have told their story which highlights the reality of the story connecting you to a face as well as the story.

'in each of these stories, the lesson is the same. Being second is the only way to find love, peace, joy, contentment, or whatever else you are looking for. It is the only way to find a life worth living.'

With an eclectic mix of stories in I Am Second different people can relate to the varied life situations discussed. This makes the book one that can be given away to encourage people in difficult situations about the hope of Jesus, that all is not lost. Now available as a small group study resource I Am Second Conversation Kit you can work through the ideas and concept of I Am Second as a church or small group.
Though many of us may not have extreme conversion stories, everyone has a story to tell of how they became 'Second'.
November 22nd, 2012 - Posted & Written by Anna Hockley