When I received the manuscript for Would Like to Meet many months ago, I hoped that maybe one day I would speak to the anonymous HopefulGirl and ask her all those detailed questions of her experiences of online dating. Well, as I turned the pages of the manuscript, I didn't have to wait too long before I was LOL and picturing the hilarious, awkward and cringey scenarios that occur when you enter the world of Christian online dating!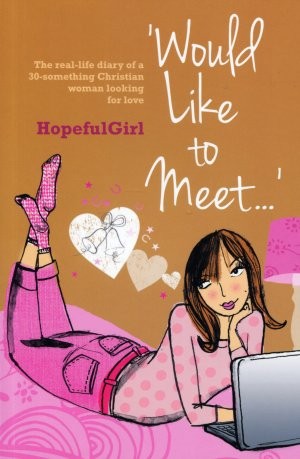 AB: So what made you decide to write this book?
HG: Well you know the back story. After being spectacularly dumped by my fiancé of 8 years I launched myself onto the Christian dating scene. Essentially I first looked around my own church circle to see how many eligible bachelors there were to choose from, and there were none! I had to look further afield so I did a bit of Googling and discovered there were loads of ways that believers can meet and mingle. So I launched myself onto the Christian dating scene, of which I'd known nothing before.
I kind of expected within a year that God would guide Mr Right straight to my door and of course it doesn't work like that. I became the dinner party entertainment for all of my friends! Every time someone saw me they wanted to know the latest date and how it had gone or some horror story or comedy of errors and after a while I thought I can't waste these stories!
AB: How did the Woman Alive column come about?
HG: They are always trying to look for different ways to tackle the singleness issue as so many readers are single that read Woman Alive. So the editor was really keen on the column as it's a light-hearted way of looking at the subject. It's been a really big hit with the readers.

According to Match.com 1 in 5 relationships start online. But for many there is still a reservation about online dating. So I was keen to know what HopefulGirl's friends and family thought about her online dating adventure. But after a stern talking to from her brother, the encouragement and help began – including a full-on photo shoot with her BFF to get the perfect profile picture!
AB: For those thinking about giving online dating a go, what 3 pieces of advice would you give?
HG: 1) Be ready to play the long game. You start with such enthusiasm and optimism and you hope, like I did, you'll hit the jackpot in the first few dates. And it does happen like that for some people. But for most people it's a much longer trawl.
2) Be safe. Not to scare people, but people aren't always what they seem. So it's crucial to put safety measures in. Play it safe so that you can relax and enjoy it more.
3) Have as much fun as possible. If you get your hopes up too much you'll run out of steam really quick. It's more about widening the circle and meeting more people.
AB: Moving on to more serious things, I asked HopefulGirl what her thoughts were on the Church and singles. How do you think the Church can better support single people?
HG: Church leaders need to be more mindful of the fact that there are increasing numbers of single people in their congregations. Not everyone is a married with a family; single people can feel really invisible. If we're going to preach that Christians should only marry Christians, then help us to meet some of them! Inter-church social events help you get to know other people – most churches aren't massive so it'd be nice to get to know other Christians.
AB: Which Christian books have you read that you've found helpful in your faith?
HG: I've read hundreds of Christian books over the years. I devoured a lot of biographies: The Cross and The Switchblade and Chasing the Dragon. They blew my mind. Real experiences of God boosted my faith and made me reach for a more real relationship with God.
Now I really like reading books that make you think a bit differently – faith from different angles. Not necessarily that I agree with everything they say. Dave Tomlinson, Sara Miles and a bit more mainstream Philip Yancey. I've not read many Christian relationship book; but I've heard of a couple, which is probably something I should remedy. How to get a Date Worth Keeping by Dr Henry Cloud and Should I Get Married? by M.Blaine Smith I've been told to read; but I'm not giving anything away!
AB: So what's next for HopefulGirl?
HG: I'm doing a regular monthly blog for ChristianConnection and some other Christian dating sites alongside continuing to write the column and connecting with social network communities. Plus there is a possibility of a sequel of sorts.

AB: So if you can't wait to find out more about HopefulGirl, don't forget to get a copy of Would Like to Meet. Find her on facebook.com/hopefulgirluk or follow her on twitter @ hopefulgirluk. I bet you're all thinking the same thing... Did HopefulGirl find the one? Well, to get you guessing, I'll leave you with the following quote from when I asked her about her favourite date:

'The best date would give away the rest of the book…'
March 31st, 2013 - Posted & Written by Anna Hockley