'Edutainment' seems to be the current trend for teaching Sunday school/Christian learning at home in America, which is slowly trickling into the British Church. It blends an engaging, funny DVD with Christian teaching.
But do DVDs lead a child to a meaningful spiritual experience through entertainment? Phil Visher (creator of 'VeggieTales' & 'What's in the Bible?') says no!
"Nothing I can put up on a screen can replace what a leader can do in a room with a child. Nothing can even come close." – Phil Visher, taken from an interview with Minstry-To-Children.com.
Strange thing to admit in an interview by a man who created the Whats In The Bible? Children's DVDs. But we agree – DVDs shouldn't 'replace' children's ministry, but 'strengthen' it.
Children & Our Media Hungry Society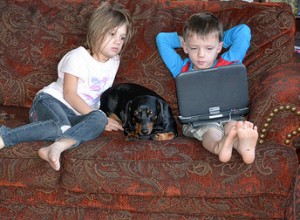 When Phil Visher first began his mission to reach and teach children with VeggieTales, the state-of-the-art technology sweeping the nation was the VHS cassette. I can remember watching Tom & Jerry cartoons on my 4 cassette box set. 20 years later and, my goodness, how the world has changed.
These days, children aren't walking about with VHS cassettes under their arms. They have smart phones in their pockets, access to a laptop/computer at home, HD TV with a DVD player and games console in their living rooms (and sometime in their bedrooms too). Children now live in a 'media-immersed-culture' with more and more ways to watch Children's media.
So Christian Media has been responding to this technological shift with Music & Worship DVDs, Holiday Club DVDs and Teaching Resource DVDs. But do they work? Do they lead children into a meaningful experience of God? Or do they just entertain?
There is no 'Electronic' Replacement for a Hug
Phil Visher openly admits that Christian Media isn't the golden answer.
"With animation and music I can engage a child, make them laugh, possibly make them think about something in a new way, but I can't love them." – Phil Visher, taken from an interview with Minstry-To-Children.com.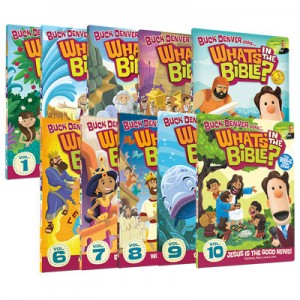 What's in the Bible? is a puppet adventure series through the Bible, teaching children the whole Bible. Many churches use the DVDs as education in Sunday schools and kids clubs, while even more parents have the DVDs for their kids to watch at home. Phil has poured his heart and soul into this series, creating an incredible tool for Children's Workers and parents.
The Children's Christian Media pioneer 'edutians' (educates children through entertainment), and in our opinion is leading the way. But after the 30 minute episode is over, Phil knows his job is done. He can't get alongside the children, laugh with them, learn with them or show them God's love – that's where his job ends and yours begins.
Children's DVDs – Supplement NOT Replacement
With 10 DVDs so far (from Genesis to the Gospels), What's in the Bible? teaches kids the in's and out's of the Bible with humourous puppet characters and engaging story-telling. What they don't do is steal the show.
"My goal has always been to be a parent's ally. Back-up. Support. To make a parent's job a little easier by reinforcing the work they're already doing… Good Christian media can and should be a wonderful support for Christian parents." – Phil Visher, taken from an interview with Minstry-To-Children.com.
They are the modern answer to teaching kids in the language they see, hear and watch every day, 'media' – but they don't speak God's language, 'love'.
They communicate the Gospel – but they don't do the Gospel.
They can show children how to live the Christian life – but they aren't real-life role models.
Good News & Bad News
So, Christian parents and Children's Workers, I have some good news and bad news:
The Bad News: Children's DVDs by themselves aren't going to save the day, as they can only 'edutain' your kids. If you think simply sticking a DVD on is going to transform your children into strong Christians, you're going to be disappointed.
The Good News: Children's DVDs, alongside your love and support (and let's face it, your hard work), will help to teach children how to live as Christians every day. They are today's' VHS cassettes, and using them effectively is the answer to reaching and teaching today's children.
March 1st, 2013 - Posted & Written by James Warwood