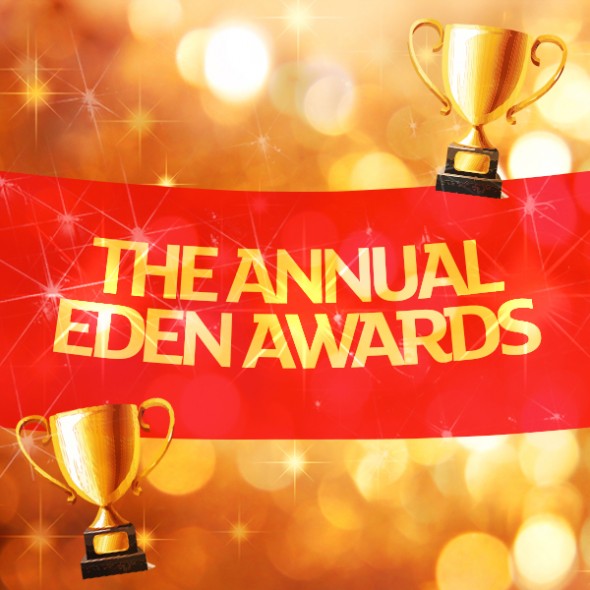 The annual Eden awards are back for 2017!
This past year has been one of fresh voices and absolute favourites. We've had new books from big name authors such as Tim Keller and Max Lucado, as well as promising new books from some truly brilliant debut authors.
We've seen stories that defy belief, and books which bolster it. We've been blessed, surprised, and emboldened in our confidence that the world of Christian books isn't just growing: it's flourishing like never before. And it's at times like this we get all giddy with excitement about what is to come.
But before that, let's take a look at the books that have made 2016 such a great year for Christian books.
Biography

Few book move and inspire us as much as true-life stories. They show us the best we can be, and the real love of God that overcomes more than we ever thought possible. This year has proved no different in giving us the life-changing stories of men and women whose remarkable lives have become stories worthy of celebration.
God and Churchill - There has never been any shortage of books about Winston Churchill. At least, not about his career, his achievements, quips, quotes, and policies: but what about his faith? A new approach that is told with vigorous research, and an insightful reading of Churchill's own words and actions, God and Churchill is a bold new look at not only the man who saved the nation, but his faith too.
Taken on Trust - Few stories captured attention like that of Terry Waites who was taken hostage in Beirut and held there for 1,763 days. Updated with a new chapter and foreword to commemorate the 25th anniversary of the event, Taken on Trust is a soaring reminder of one man's sheer perseverance in God's name.
Night the Angels Came - One of the reasons we read biographies is that they pull us out of our own lives, and into someone else's: few do this more than Chrissie Chapman's amazing story of serving God in Burundi, deep in the heart of Africa, and the miraculous event which unfolded there.
My Journey So Far - Most vicars don't wear bulletproof vests; most vicars don't dodge bombs; and most vicars don't need armed guards, but Canon Andrew White isn't like most vicars. Dubbed 'The Vicar of Baghdad', Andrew White's book is a fascinating and encouraging story of facing extreme danger in order to spread God's love where it is most needed.
Way of Blessing - Proving that you don't need to be taken hostage in Beirut, surrounded by militia in Burundi, or in the line of fire in Baghdad to experience a miraculous life, Roy Godwin's challenging book of God's presence in a tiny, Welsh community is a call to live a spirit-filled wherever you are.
Bible

Every year, new and fascinating ways of experiencing the Bible are published. Whether you're young or old; artsy or studious; prefer fresh, contemporary language, or the deep poetry of classical translations, there is a Bible suited to you. And so, here are our favourite Bibles to have been released in the past year.
NLT Inspire - The adult colouring book craze swept across the world like a tidal-wave of relaxation. Bringing together this new-found creative zeal and the lively NLT Bible, the Inspire Bibles created something greater than the sum of their parts: a whole new way to draw deep into God's word.
NIV Life Application Study Bible - Personal Size - Proving that study Bibles with real depth don't need to be cumbrous in size, this personal-sized NIV Life Application Bible packs in all the text-opening feature that make it one of the most trust Bibles in the world.
NIV Audio Bible in One Year - With the warm, dulcet tones of esteemed actor David Suchet bringing the Bible to life, this One-Year Audio Bible makes your cover-to-cover journey through God's word easier, and more pleasurable, than ever. A real treat.
NIV Journaling Bible for Colouring In - Some Bibles are for grown-up, and some are for kids: this one is for both! With pages for colouring, margins for notes, and and lasting binding, we love that this Bible is perfect for a whole family.
NKJV Prophecy Study Bible - Made to help you unlock what the Bible says about the last days, the Prophecy Bible, unlike most study Bibles which examines the past, looks ahead to see what the future looks like, and also contains extras from revered scholar Pastor John Hagee.
Fiction
Sometimes it takes great fictions to tell powerful truths, and this year's stellar novels are no exception. These stories of Amish romances, missionaries in feudal Japan, and famous Hymn authors all create living, breathing worlds which fire up the imagination, and set alight the mind.
Undoing of Saint Silvanus - Breaking out into fiction, the much-loved bible teacher Beth Moore pours a lifetime of closely-held truths and wisdom into this, a story of the lives of the broken and healed in New Orleans.
Newton and Polly - Turning her long-grown skill in creating vivid and moving novels of deep emotion to the lives of John Newton and Polly Catlett, Jody Hedlund brings to new life the story of the relationship that brought the most timeless of all hymns to the world.
The Wish - Beverly Lewis is fast becoming the supreme writer of Amish fiction romances, and The Wish epitomises her unique talents as a writer. Sweeping yet sensible, The Wish depicts the great emotions, and day-to-day minutiae, of romance in Amish communities.
Silence - Re-released to coincide with the new film by Martin Scorsese, there is a reason that Silence is heralded as one of the great novels of the 20th Century by many writers, including David Mitchell, author or Cloud Atlas: it is profound, lyrical, and is a book like no other.
Delilah - It wouldn't be a complete list without the ever-growing genre of Biblical Fiction making an appearance. Imagining the story of Delilah, and her knotted relationship with Samson, Angela Hunt's stirring novel lets you see the often-chastised character in a new light.
Book Cover

Despite what we've been told all our lives, we're actually going to do it - we're judging a book by it's cover! Here's our pick of the covers that caught our eye, and intrigued us into seeing what they have to say.
But, we want to know what you think! Vote for your favourite cover, for the design that sparked your interest and made you want to know more, by heading over to our Twitter (@Edencouk), or on Facebook (https://www.facebook.com/Eden.co.uk/posts/1363370440351331).
Enriching our Vision of Reality
Bible Cover

Designing a cover for a book with a new story, or new idea, is one thing. But how do you go about designing the cover for the Bible? It's the book that changed the world, and contains so much truth and life that capturing even a glimpse of in for a cover can feel like a mammoth task.
NIV Journalling - Stu Mclellan's homely style is made to radiate warmth, and this Bible is no exception. Decorated with all the aspects of family life, this NIV Bible is positioned as a Bible for day-to-day reading.
NLT Inspire - The beauty of God's word is at the forefront of the Inspire series. Delicately decorated with examples of creation's intricacy, the NLT Inspire Bible reveals its creative finery with this lush cover.
MEV Colouring - A truly beautiful Bible, this hardback MEV Bible, with its classical framing and verdurous design is a piece of truly fine design.
NIV Manga - One of the most striking modern art-forms to have grown over the past few decades, Manga is well-known for being striking and energetic and this bold NIV Bible cover by manga maestro Siku is certainly no exception.
One Year Expressions - Announcing a Bible that can barely contain the life within, the petals, leaves, and buds that flow over the whole of this Bible's cover are an elegant way of showing just how much there is to gain from reading the Bible.
Book Title

A good book title should be like the smell you inhale when walking past a fine restaurant: it should catch your attention, give you a taste of what's on offer, and whet your appetite for what's on the menu. These are that titles that piqued our interest, made us want to know more, or even just intrigued us into discovering what they mean.
Dethroning Mammon - What's a Mammon? And why does it get a throne? This book from Justin Welby had us running to our dictionaries, before running back to find out more.
My Year with a Horse - Raising a good many equestrian questions, this quirky title had us intrigued to find out what a year with a horse is really like.
The Pug List - To paraphrase the famous line from Casablanca: you had me at pug. The Pug List had us imagining a whole heap of pug fun.
Of Moose and Men - If there was a pun of the year award, the genius title would get it. The perfect title is one where you simply can't imagine a book being called anything else, and this one is that. Perfect.
You Have a Brain - Just because you can't see it, doesn't mean it's not there: an idiom that even applies to brains, apparently, as this strange title reminds us that there is actually a brain behind those eyes. Thank you, Doctor Carson.
Adult Colouring Books

The idea was simple: what if, instead of just being for children, there were also colouring books for adults? It was a thought that exploded across the publishing industry as millions of adult colouring books flew off shelves.People across the world were taking time out of their busy lives to simply sit, colour, and relax.
But why not go beyond simple restfulness? Merging wisdom from the Bible with inspiring images, these are the colouring books that weren't just content with calm. They offered up a space to creatively meditate on verses from the Bible, and grow deep in faith as they coloured.
These are our top picks for Adult Colouring Book of the year.
The Promises of God - With each page declaring the hope of God's promises, this inspirational colouring book blessed those who spent time dwelling on the hope for the future as they relaxed and coloured.
Images of Grace - Some books just added verses to their illustrations, but none have managed to weave them in as seamlessly as Images of Grace in which the moving picture and text are beautifully one.
Inspire Psalms - We expected no less from the Inspire range than sheer beauty - and that's just what we got. Translating the lyrical elegance of the Psalms into refined illustrations, this has been a consistent favourite for much of the year.
Be Still and Know that I Am God - Taking the command from the Bible as literally as possible, this broad range of images suits every taste it encourages you to simply rest in God's presence.
Patterns in Psalms - Creative praise is the theme of this life filled entry to the adult colour book market. Patterns in the Psalms offers a new way to praise God by channeling you innate creativity into worshiping.
Thought-provoker

"Think before you speak. Read before you think." - a perfect quote from Fran Lebowitz which summarises just why a good and thought book is truly essential. These are the books that grow in the mind, and which show you a whole new way of seeing the world .These are the thought-provokers; not the thought-nudgers, or through-suggesters. They will push you up, and you'll be glad of the view forthwith.
Dethroning Mammon - Justin Welby uses his past career in Oil and Finance to create this highly-insightful look at the power of greed, both societally and personally, in this Lent study that shows the truly revolutionary aspect of generosity.
Inventing the Universe - It was no surprise that Alister McGrath would end up on this list. His insight, erudition, and intelligence has created some of the most engaging book of recent years, and Inventing the Universe is no different. It opens up why we ask the big questions, and what the universe has to say about its very own existence.
The Day the Revolution Began - Tom Wright, the author of more books than I can very well count, brings his uniquely approachable insight to the seismic shift that is Jesus' death and resurrection brought to the whole of humanity. Bringing new answers to old questions, this is perfect for rethinking all you know about the Cross.
Making Sense of God - Some books are for believers, some are for unbelievers: Making Sense of God, remarkably, is for both. It's as much for the sceptics as the saved, and it's open understanding and honest investigations into the reasons behind scepticism are as thoughtful as they are engaging.
Not in God's Name - This book was a talking point for many last summer. A timely look at the deep and painful rifts behind religious violence that's tearing the world apart, Not In God's Name reaches back to the story of Abraham to explore not only the root of this societal division, but also a way of healing that can be found by abandoning the dualism that has entrenched for centuries.
Leadership

The easiest thing to shy away from can be your very own calling; especially when that calling may mean being at the very forefront of other people, all eyes on whatever you do. The stage is a scary place.
But these are books that understand that. They will push you, challenge you, and inspire you to more than ever thought possible.
Leadership, like any skill in life, is learned, and these books offer up a route to becoming a successful leader.
Know Your Why - Why am I here? It is the most universal of questions: one question with seemingly a million different answers. But for Ken Costa, a man who's no stranger to the pressures of seeking purpose, the answer is easily within grasp in this clear and practical guide to finding your life.
Being Disciples - A key idiom whenever people talk of leadership is 'to learn to lead, you must first learn to follow' and what better way to learn that from the disciples themselves? In his first book since resigning as Archbishop of Canterbury, Rowan Williams opens up ways to a healthy spiritual life that can be found in learning to live a life of discipleship.
How to Pioneer (Even if You Haven't Got a Clue) - A no-nonsense guide to practical leadership in the Church, this small book from David Male is packed with wisdom and experience, and is a spark that will ignite the flame of leadership. Essential for leading a Church inside its building, as well as out.
Series

Sometimes one book just isn't enough to contain all that can be said, and these series are prime examples of the remarkable collections that simply couldn't be contained in any simple binding.
John Sentamu's 'Stories' series - Over three books, the Archbishop of York John Sentamu has collected powerful, amazing, and inspiring true stories of God working today. Filled with a plethora of voices, these all tell of the many different ways God reveals himself in the lives of those who need him.
Jesus Calling/Always by Sarah Young - Inspiring millions across the globe, Sarah Young's devotional series continues to remind people of just how unfailing, how ceaseless and bountiful Jesus' love really is.
3 Minute Devotions - It's a simple idea that can change lives. This devotional series that only takes three minutes a day to read. Just 3 minutes, 180 seconds. It sounds like so little, but the amazing thing is seeing just what difference three minutes can make in a whole day.
Author

The author of the year award celebrates those whose books have shaped Christian thought in 2016. These are the people whose unique voice, captivating insights, and open minds have opened up our faith in exciting, and meaningful, new ways.
Tim Keller - Releasing two books in 2016, Hidden Christmas and Making Sense of God, this has been a bumper year for the New York pastor whose books are as famous for the approachability as they are their life-changing truths.
Sarah Young - Bringing fresh expressions to the devotional book format, Sarah Young's Jesus Always, a follow-up to Jesus Calling, gives you a new way to hear the words of Christ every day of the year.
Jeff Lucas - If you have never heard of Jeff Lucas before, this year has been the perfect time to begin. Faith for All Seasons, like the rest of his books, are rich with compassion, understanding, and powerful insights into what God's word means for us today.
Joyce Meyer - A powerhouse of inspiring reader's faith into new and bold territories, there is a reason Joyce Meyer has become one of the most celebrated Christian authors of modern times. Her books are as grounded in God's word as they are the day-to-day life we all live. And books like Overload and Seize the Day are perfect examples of how she helps christians live out their faith every day, and the blessings that pour out from it.
Max Lucado - Some authors are read, some followed, and some are cherished; Max Lucado, more than anything, is loved. His books radiate warmth and a passion for faith that is unquenchable, and a zeal that is contagious. This year, he wore on his sleeve his adoration of Christmas in Becuase of Bethlehem. Declaring his love for all things Christmas, he showed how the good news of Jesus' birth is richer than even the most bandy-soaked of Christmas puddings.
Debut Author

Anyone who has ever tried to write a book can attest to this one truth: writing a book is hard. Even harder is writing a good one, yet these authors have done that - and not after a lifetime of honing the craft, or refining their thoughts. These authors got it right first time round. There are the people whose first books are filled with the wit, wisdom, and remarkable writing to make their debuts a success.
Justin Welby - Dethroning Mammon is a book of firsts: first official Lent book to be written by the Archbishop of Canterbury himself, the first book to become our best selling book of 2017, and Welby's first book over all. Yet, reading it, you would never think it so. It is confident, insightful, and an assured exploration of the Lent story.
Chris Tomlin - Writing songs and writing books are two pursuits worlds away from each other. But that didn't stop Chris Tomlin from helping turn his iconic anthem, Good Good Father, into a rich, imaginative book for children. Bold, colourful, and powerful - we all hope this is the book to pave the way for many more worship leaders to create their own books for children that are filled with the life that makes their music unforgettable.
Amy Boucher Pye - With Finding Myself in Britain and The Living Cross, Amy Boucher Pye has dived head-first into becoming a Christian author and, we're glad to say, has come up swimmingly. Exploring both her own journey of moving from America to Britain, as well as Jesus' journey to the cross, with a distinct and open style, Amy Boucher Pye has proved a natural fit for creating books that readers adore.
Chrissie Chapman - Approaching a story as remarkable as Chrissie Chapman's may feel like facing a mountain - especially for a new write. But that didn't stop Chrissie in creating a powerful and convincing account of her time in Burundi. Becoming one of our bestseller of 2016, the Night the Angels Came is a remarkable book and has inspired readers to trust more in a God who does amazing things for those in his service.
February 15th, 2017 - Posted & Written by Aaron Lewendon