I didn't think I'd ever get the chance to mention the 1960s pop music girl group, The Dixie Cups, in a blog post but here we are. Spring has well and truly sprung and around 200,000+ couples in the UK will be going to the chapel (or similar) and getting married this year. Yea Yea… *
I love a wedding. The dress, the vows, the speeches. In fact, as I write this I am just two days away from attending the nuptials of my oldest friend. Excitement is at fever pitch.
But whilst I've always got my outfit picked out months in advance and my fascinator at the ready, one area I struggle with is finding a nice gift. With so many people are moving away from the traditional gift list with the big department stores, how then do you find something meaningful and appreciated that won't languish at the back of a cupboard or be sold on ebay after a sufficient amount of time?
If, like me, you struggle with gift ideas here's our go-to guide for presents that are sure to delight: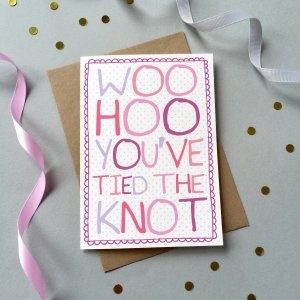 First of all, start with a card. These greeting cards are blank inside for your own message of congratulations, blessings and celebration. The Love Is card features 1 Corinthians, also known as 'the wedding verse', More Than Gold's Mr and Mrs card features a striking gold foil design alongside stunning hand lettering and a watercolor design, so pretty they'll want to frame it or for something a bit more quirky why not give the 'woo hoo you've tied the knot' card, brimming with the excitement we all feel watching our loved ones get married.
Great, so you've got a card and written a lovely message that the happy couple will treasure.
Now for a gift.
Do you remember reading The Highway Code when you first learned to drive? I don't really, which probably explains a lot. But The Highway Code for Marriage is a fun, practical little guide for couples old and new, packed full of sound advice and wisdom this little guidebook will bless couples again and again through the ups and downs of marriage.
There's always a lot going on in the first year of marriage, you think once all the planning is out the way that there's loads of time but from experience, that first year just flies by. How then do couples find the time to spend time together reading the Bible and praying? I can personally recommend the NIV Couples' Devotional Bible. A beautiful Bible with an entire year's worth of devotions written especially for engaged and newly married couples.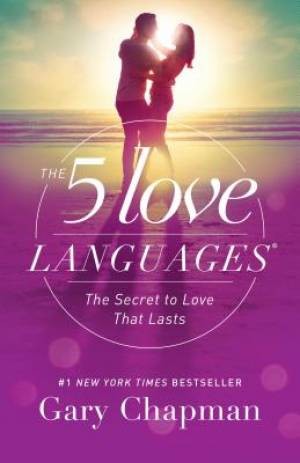 Keeping with the theme of short, snappy advice, Rob Parson's Sixty Minute series has been transforming marriages and relationships in just an hour for years. Sixty Minute Marriage gives reliable advice on the nitty-gritty of love and marriage that is set to revolutionise every relationship, in less time than a game of football!
Finally, why not gift some expert advice from the relationship Dr himself, Gary Chapman. The 5 Love Languages is a Christian classic sharing the secret to a love that lasts. With a proven, practical formula, The Five Love Languages reveals intrinsic truths and applies relevant, actionable wisdom in ways that work including a detail exploration of each language.
Happy Wedding Day to all those getting married this year, and may we wish you many blessings for your life together.
Looking for more gift inspiration? Don't forget to stop by our Wedding Department for all your nuptial needs.
*If you're still unsure of this reference it's their 1964 million-selling record 'Chapel of Love'
July 16th, 2018 - Posted & Written by Laura White