We review Being Human, the latest book from Rowan Williams, and the followup to Being Christian and Being Disciples

Life doesn't come with an instruction manual...but it seems like if anything is going to come close, it might just be this.
Rowan Williams' Being Human is an examination of the deep, often subconscious, processes that guide our lives as human beings. Before this, Rowan Williams explored the foundations of faith (Baptism, Eucharist, Prayer, and the Bible) in Being Christian, and then aspects of Christian life, such as Holiness and Faith in Society, in his second of the 'Being…' books; Being Disciples. Being Human is a much more philosophical book. It is a short, but potent, dive into the very-human mind.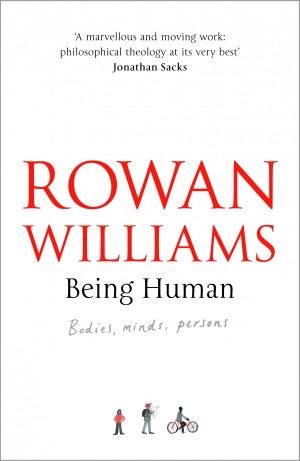 Without rigour, it would be easy for Being Human to be a book of pure navel-gazing. It seems that so often we are told to keep our eyes on creation, on God, on other people, on the Church, on community, and on our work. It can initially seem jarring to examine yourself, to explore your own mind. It is seen as the mantra of secular thought to declare that 'the unexamined life is not worth living'; yet to believe that such an idea is pure secular self-involvement is a grave misstep. Largely, this is because if we don't know ourselves, we can easily open ourselves up to ideas and patterns of thought that misrepresent and corrupt. Digging to find what real humanity means is not the exclusive path of the secular humanist, but also a calling to better understand how we can live a good, and healthy life.
A short book, Being Human focuses its five condensed chapters on answering questions such as:
What is consciousness? (Chapter 1)

What makes a person a person? (Chapter 2)

What's the relationship between our bodies and our minds? (Chapter 3)

How can we flourish as people, and in faith? (Chapter 4)

How can we grow and mature? (Chapter 5)
All of this can seem like the adolescent wondering of an introspective teenager looking to find the meaning of life. And, to a degree, this book does answer those questions. Pouring an incredible amount of knowledge, thought, and research into a book notable by its brevity, Rowan Williams is the ideal read for anyone concerned with such grand questions.
Being Human's blend of Theology, Philosophy, Sociology, Science and Linguistics does open up a number of paths for readers to wander along. Whether it's in shooting down the notion of the brain being like a computer, or exploring how moments of human silence can lead to profound growth, Being Human's strength lies in the way it articulates the often unexamined ways we relate to those outside ourselves, as well as how our own thoughts and mind work. Reading it is like reassembling the cogs of your own brain. It pushes you like few other books do.
Throughout Being Human, the ever-eloquent Rowan Williams offers a manual that is undeniably technical, yet somehow immediately practical to life and faith. As much for inquisitive non-Christians as it is Christians looking to understand what constitutes genuine humanity, Being Human is a manual for better understanding what Robin Sharma calls "a wonderful servant, but a terrible master"; the ever complex, ever fallible, and ever wonderful human mind.
Due for release on the 15th March, Being Human can be pre-ordered today.
March 7th, 2018 - Posted & Written by Aaron Lewendon