Priest and blogger Rev. Edward Green ponders life for the liberal and catholic wings of the Church of England with the announcement of the retirement of Rowan Williams.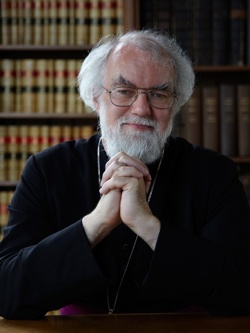 After Rowan: Where next?
After months of rumours Rowan's tenure as Archbishop of Canterbury will come to an end in under a year's time. When he began we celebrated at theological college, here was one of our own; thoughtful, theologically literate, rooted in the tradition, open to change, prayerful and inspiring.
Much like Labour's victory under Tony Blair many of us believed 'Things Could Only Get Better'.
Comparisons to Blair could be made. Rowan as a poster-boy for New Liberal Catholicism has disappointed many with his perceived failures of liberalism and catholicism. Rowan's liberalism has always been Radical Orthodoxy, not of the crossed fingers in the creed type. Rowan's catholicism has always valued unity, even above inclusion. Yet even in that framework it was not unreasonable for those who believed in an inclusive church to hope for a warmer climate towards those in same sex relationships (celibate or otherwise) and a renewed confidence in sacramental parish ministry. The on-going controversy of Jeffrey John and the introduction of Fresh Expressions stand in stark contrast to these hopes for many.
The latter is seen by Archbishop Rowan as one of his great successes
I think the two things I look back on with greatest satisfaction are that we've managed in the Church of England to launch this very new mission outreach programme Fresh Expressions, and get the Church of England to recognise the possibility of new styles of congregational life and new styles of training for ministers to go with it. (Rowan Williams)
The strongest resistance to Fresh Expressions has come from the same circles that celebrated Rowan's appointment, expressed in 'For the Parish'. Only yesterday I was discussing with a strong advocate of Fresh Expressions in sacramental traditions how the (liberal) catholic movement in the Church of England was retreating to Oxbridge. News of Rowan's next post as Master of Magdalene College Cambridge came with a certain prophetic irony.
It is a conversation I have had three times in the last week with two other respected senior post-holders in a sacramental tradition. That last term stuck with one who pointed out that Anglicanism is a sacramental tradition in essence. Others agree - I recently enjoyed Robin Ward's 'On Christian Priesthood' , the description of the book runs:
This book seeks to restore the centrality of priesthood to the understanding of Christian ministry by setting it within the context of fundamental moral theology. Beginning with the importance of religion as a Christian virtue, it sets out the way in which the moral life is given a cultic setting by our participation in the sacraments. Priesthood and sacrifice are taken out of the setting of Reformation controversies and re-pristinated as key theological tools for understanding what ordination is for and how priesthood is a foundational characteristic of the Church. (Robin Ward)
Perhaps Fr. Robin's book is required reading for Pioneer Ministers, but I suspect that his language and assumptions are profoundly distant from the language of their formation. Yet celebrating the Eucharist in a newer pioneer church plant recently I was deeply challenged when someone shared that they had seen Jesus at the table during the Eucharist prayer.
From the real Parish it looks as if Rowan's resignation heralds the failure of Radical Orthodoxy and the retreat of liberal catholicism to the universities. Our best hope is probably an evangelical with a confident sacramental voice, popular with anglo-catholics and a mission focus.
Answers on a Postcard?
Edward Green is a Church of England Priest based in Oxfordshire. He blogs regularly at The Future Shape of Church
March 19th, 2012 - Posted & Written by Edward Green