Every day this Advent we will be sharing reflections from Christian authors. Today's is by Naomi Allen.

It was a bleak, misty, early morning and I was out at the park walking my newly acquired dog. Having recently moved to the area I was still getting a feel for my surroundings and felt a bit on edge walking to places by myself. Thankfully the dog bolstered my confidence as we made our regular trips out. Nonetheless, this particular morning with the mist hiding the majority of the field, I was feeling a bit vulnerable. As I dutifully played fetch I was not prepared to turn and find a dishevelled man approaching and now ten paces away. Normal protocol would require that I comment on this stranger's dog, however he had no dog. He didn't even have socks; his feet were in sliders and must have been freezing in the grass. I mumbled a morning greeting, gave a nod and got a laugh as a response. Feeling marginally reassured as this man didn't seem aggressive, I mentioned the mist, to once again be answered with a laugh. At this point I realised that there was clearly a language barrier between us – he was happy watching my dog crazily tear after his ball and for a few minutes we both enjoyed the connection before he shuffled across the field and I continued on my way.
I've always aspired to be a brave person; someone who isn't held back by the crowd and who is willing to forge their own path. However, it seems that as I've got older and slightly more cynical, I am increasingly seeing that fear does have a hold on me. My first thought in the above situation was that I was in danger, and probably rightly so; it was a bizarre encounter for 7:30am! But it got me thinking, how many interactions do I miss out on because of assumptions driven by fear?
All too often we can be controlled by fear. We live in a world where fear is the medium used to sway opinion. Fear of what others may think of us, fear of those who are different, fear of the "what-if's". Some of the young people XLP work with live in constant fear. Whether it's fear of rejection by their peers, fear of failing or carrying knives out of fear, the reality is fear can drive us. And yet, the Bible is full of exhortations to not fear; to live in the knowledge that God is with us in every situation and that he cares for us.
The gospel of Luke tells of the encounter between Mary and the angel Gabriel and I'm encouraged that Mary's natural reaction is uncertainty, or even, fear – makes me remember she was human too. But Gabriel reassures Mary saying, "Do not be afraid, Mary, for you have found favour with God" (v30). This is a recurrent message throughout the Bible with God continually saying to his people "do not be afraid" (Gen 46:3, Josh 1:9, Acts 18:9 to name a few). Time and again we are people who can easily slip into fear when we forget who God is and who we are.
The narrative between Gabriel and Mary reminds me of two important points:
The Almighty God of the Universe, the one who is capable of all things, wants to engage with me

Through Jesus I have found favour with God
If I look at the many troubling situations in our world today it is easy to become overwhelmed. When young people you have worked with for years are killed or imprisoned it is tempting to give in to fear as there seems to be limited hope. Yet if I look at who Jesus is and remember that nothing is impossible for him; if I remember that he continually says to me those same words that Gabriel said to Mary, "Do not be afraid, _______, for you have found favour with God", it reassures me that there is hope. Hope that God can use me as I continue on this journey of bringing my fears to him to be reminded of his truth: as Jesus said -
"Peace I leave with you; my peace I give you. I do not give to you as the world gives. Do not let your hearts be troubled and do not be afraid." John 14:27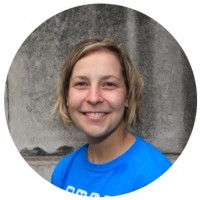 Naomi Allen is XL Ministries Director at XLP. With a degree in International Politics and a heart for mission, Naomi Allen has led the youth work in Lewisham for XLP for the last 5 years. Passionate about God and young people, Naomi has been involved in a mixture of projects that seek to connect the dots so that young people are able to hear and respond to the gospel.
XLP is founded by Patrick Regan who, in his book When Faith Gets Shaken, shares his personal journey of faith in difficult times. Patrick is UK ambassador for Compassion and an Honorary Fellow of the London Southbank University.
December 6th, 2017 - Posted & Written by The Editor