Every day this Advent we will be sharing reflections from Christian authors. Today's is by Tim Keller.

JESUS IS WITH US
There are three ideas in "Immanuel": He is God, he is human, and he is with us. It would have been astonish‐ ing enough if the Son of God had become human and simply lived temporarily among us and then left, leaving a set of teachings. But his designs were infinitely greater than that. In the Gospel of Mark it says that Jesus Christ chose twelve apostles and appointed them so that they would be with him (3:14). What does "with him" mean? From that text and the rest of the Gospels we can see that it means being in Jesus' presence, conversing with him, learning from him, having his comfort moment by moment. The purpose of the incarnation is that we would have a relationship with him. In Jesus the ineffable, unapproachable God becomes a human being who can be known and loved. And, through faith, we can know this love.
This does not stun us as much as it should. Look at the Old Testament. Anytime anyone drew near to God it was completely terrifying. God appears to Abraham as a smoking furnace, to Israel as a pillar of fire, to Job as a hurricane or tornado. When Moses asked to see the face of God, he was told it would kill him, that at best he could only get near God's outskirts, his "back" (Exodus 33: 18– 23). When Moses came down off the mountain, his face was so bright with radiance that the people could not look at him (Exodus 34: 29– 30)— so great, so high and unapproachable is God.
Can you imagine, then, if Moses were present today, and he were to hear the message of Christmas, namely that "the Word became flesh and made his dwelling among us. We have seen his glory, the glory of the one and only Son" (John 1:14)? Moses would cry out, "Do you realize what this means? This is the very thing I was denied! This means that through Jesus Christ you can meet God. You can know him personally and without terror. He can come into your life. Do you realize what's going on? Where's your joy? Where's your amazement? This should be the driving force of your life!"
When God showed up in Jesus Christ, he was not a pillar of fire, not a tornado, but a baby. There is nothing like a baby. Even young children have their own agenda and can run from you. But the little babies can be picked up, hugged, kissed, and they're open to it, they cling to you. Why would God come this time in the form of a baby, rather than a firestorm or whirl‐ wind? Because this time he has come not to bring judgment but to bear it, to pay the penalty for our sins, to take away the barrier between humanity and God, so we can be together. Jesus is God with us.
The Fathers of Jesus
The incarnation did not happen merely to let us know that God exists. It happened to bring him near, so he can be with us and we with him. Millions of people every Christmas sing, "Jesus, our Immanuel," but are they really with him? Do they know him or do they only know about him? Jesus literally moved heaven and earth to get near us— what should we be doing now to truly be with him?
What are the elements of a genuine, personal relationship with Jesus? It requires, as does any close relationship, that you communicate with him regularly, candidly, lovingly. That means not simply "saying your prayers" but having a prayer life that leads to real communion with God, a sense of his presence in your heart and life. Consider Psalms 27, 63, 84, 131 to see this kind of prayer. On the other hand, being in a close relationship means he communicates with you. That comes from a deep acquaintance with the Bible, the ability to read it, understand it, and meditate on it. Consider Psalms 1 and 119 to see how to have the Bible become a vital force in your life.8 Those are only the most individual "means of grace" that enable you to draw near to God. There are other, more communal means, such as worship and prayer, baptism and the Lord's Supper, and the other resources available in the gathered church, the people of God (Hebrews 10: 22– 25).
Extract taken from Hidden Christmas by Tim Keller
---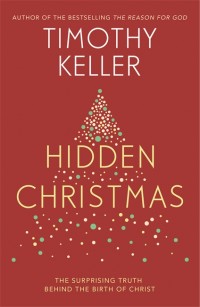 Hidden Christmas by Timothy Keller - The New Testament begins not with a dramatic narrative or lofty poetry but with a genealogy. Provocatively, Matthew's gospel includes women in Jesus' family line - something that wasn't customary in an ancient culture, where women were largely powerless and uninfluential. In this surprising take on the Christmas story, Tim Keller reveals how, by focusing on the women in Jesus' birth narratives, a colourful, scandalous, and refreshing tale of grace emerges.

December 1st, 2018 - Posted & Written by The Editor