The Real Advent Calendar is back for 2018. With a new calming blue design. A fun way for parents, grandparents, godparents, schools or Churches to share the true meaning of Christmas with children (and adults!) of all ages.
Quick Guide - Meaningful Features
Behind each of the 25 windows, there is a line from the Christmas story with a high-quality colour picture

Foiled for freshness

25 Festive Fairtrade chocolates made from our improved Fairtrade blend-35% cocoa

Palm oil free

Charitable donation

Recyclable box and tray

Made, designed and produced in the UK
Each calendar comes with a 28-page Christmas story activity book with an activity for every day of advent. Beautifully illustrated by award-winning artist, Alida Massari each page includes a snippet of the Christmas story and an "advent challenge" or activity for that day. Including puzzles and questions. Massri also illustrated the calendar itself, a beautiful, bold depiction of the traditional nativity scene featuring Mary, Joseph, angels, the wise men and baby Jesus.
Behind each of the 24 windows, there is a Fairtrade Belgian chocolate, depicting a different character each day. Each window also includes a line of the Christmas story with a colourful matching picture.
The Real Advent Calendar has been backed by famous faces, including Alan Titchmarsh. As well as celebrating Christmas, each calendar sold includes a donation to charities, Traidcraft Exchange and the Funzi & Bodo trust.
Traidcraft fight poverty through trade, practising and promoting approaches to trade that help people in developing countries transform their lives. Their vision is to see a world freed from the scandal of poverty, where trade is just and people and communities can flourish.
The Funzi & Bodo Trust works with villagers on the Kenyan Island of Funzi to provide healthcare and to improve educational facilities. Through their activities, the charity hopes to break that cycle of poverty which affects people's lives.
This year calendars are available as single packs or in larger packs of 6, 12 or 18. For those hoping to buy for their local school, class packs of 30 are available or a whole school pack of 210, ideal for your local primary school.
Frequently asked questions
Is the chocolate allergy free?
The chocolate contains natural ingredients. The 2017 Real Advent calendar is handmade in the UK in a place where people also handle nuts, therefore we cannot guarantee totally nut free chocolate in this year's calendar. The milk chocolate contains milk and so is not suitable for those with an allergy to lactose. There is also soya lecithin.
Is the Real Advent Calendar suitable for vegetarians?
Yes, the chocolate is made with natural cocoa butter and contains no vegetable fat substitutes.
Where does the chocolate come from and where is it made?
The sugar comes from co-operatives in Paraguay and Belize. Our cocoa from cooperatives in the Ivory Coast with additional higher quality beans used to create our unique blend, from cooperatives in the Dominican Republic, Ghana, Peru, Panama and Ecuador. The chocolate is made in Belgium.
Why is the chocolate not healthier?
The aim is to make chocolate that most people can enjoy as a treat and as part of a balanced diet. They use the best natural ingredients in their chocolate. If they replaced natural cocoa butter or sugar with highly processed artificial alternatives, then fewer people would enjoy it. So enjoy the chocolate, but be treat wise.
Why is the chocolate not 100% Fairtrade?
All the cocoa and sugar used to make the chocolate is certified Fairtrade. Some ingredients are not yet certified as Fairtrade.
Does the chocolate contain palm oil?
No. In the UK it is possible to add 5% vegetable fat to chocolate. Unlike some larger manufacturers, they don't add any palm oil or any other oils to their chocolate. It's just natural chocolate.
Looking for even more yummy chocolate that does good? This year The Meaningful Chocolate company have also produced: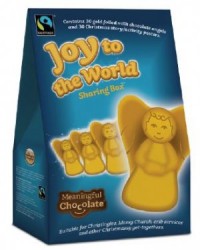 Joy to the World Chocolate Sharing Box – Share a message of Joy this Christmas with this delightful box of thirty chocolate Angels. Perfect for Church services, Sunday Schools, and holiday clubs.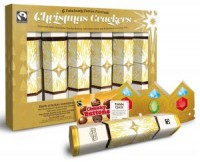 Meaningful Chocolate Christmas Crackers - 6 fabulously festive fairtrade crackers. These beautiful, gold crackers contain a packet of Fairtrade chocolate buttons, a gunpowder free snap, a full-colour print crown and a fact sheet with a Christmas story factbook - the perfect entertainment for post-Christmas lunch entertainment.
October 4th, 2018 - Posted & Written by Laura White