A year into his new role SPCK's new man at the top talks to Clem Jackson about life at one of the UK oldest publishing houses.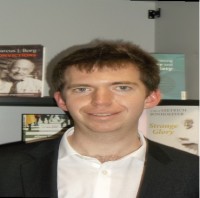 Sam Richardson was appointed as SPCK's first Chief Executive Officer and Publisher in June 2014. Almost a year into his new role I caught up with Sam at SPCK's offices and I began by asking him what had attracted him to book publishing in the first place?
For me it's the fact that it's both commercial and creative at the same time. I've always been interested in both and I think book publishing combines them in a way a lot of other industries don't. If you are a book editor you are expected to have a commercial background and it's that combination that particularly appealed.
Have you always been interested in books?
Yes I've always been a big reader. I think it would be fair to say that, when I was at university, I was always one of those journalism or publishing types. The commercial side of publishing made it appeal over something like journalism – I could never have been a writer; I don't have the capability to write anything longer than a short report.
So what makes a good editor then?
I think it's about being able to put yourself in the shoes of the readers; understanding what others might like, not necessarily what you like. It's about being able to think from a market perspective more than a personal one and also combine those creative and commercial skills in shaping a book. That's something the editors
here at SPCK are really strong at.
How has your career developed prior to joining SPCK?
I started on the graduate scheme at HarperCollins (HC) when I left university which was a really fortunate break in terms of starting in publishing. You get to spend time in each of the different parts of publishing; production, sales, marketing, editorial, the warehouse in Glasgow and also the digital department in
New York. Then I worked on digital projects at of Head of Religion at HC. It was a big step up at the time but it was really enjoyable bringing in authors like Rob Bell, Desmond Tutu and products like the ESV Study Bible as well as the churn of the really strong backlist whichincludes Good News Bible and Mission Praise.
After three years I felt ready to move on and I was approached by Hodder where I looked after a real mix of things including the selfimprovement list, Chambers dictionary and lots of business and academic books as well. I enjoyed the variety there but eventually I realised I was probably spreading myself too thinly and when the opportunity to join SPCK came up, and to be focused back on religious (Christian) publishing, it seemed to be the right move.
Did you miss Christian publishing when you were away from it?
Not initially but after a while I defi nitely did. One of the things I particularly missed was the independent bookshops, both in terms of the individuals and also the access to the market which is not the same at a big publisher. Independent bookshops are really important to SPCK from a commercial standpoint.
Why are bookshops so important to SPCK?
Over half of our sales come from bookshops in the UK and without them it's fair to say we wouldn't have a business. Also because in bookshops there is an element of curation, an element of discovery, and people will find things they wouldn't find just by typing a word into a search on Amazon. Bookshops are also important in terms of being able to launch new authors and introduce readers to authors they might not otherwise discover.
SPCK is the UK's third oldest publisher. How daunting has it been taking on the role of leading such a historically significant entity?
Well I'm really into history; one of the things I liked at HarperCollins was the fact that they started off with William Collins as a Bible publisher. So for me the history of the company is a positive. It is daunting, but not so much the history as the number of people who care deeply about SPCK. There's a real sense of responsibility there that I definitely feel. But I have some great trustees supporting me, including our chair John Pritchard, former Bishop of Oxford.
Combining what were previously two roles is a big job but how can you ensure that the publishing division doesn't suffer from the seeming dilution of this move?
I think I probably see it the opposite way. Having separate roles probably made sense when we had a bookshops operation and a publishing operation, but now that we very much see ourselves as a mission agency working through publishing it makes sense for me to be overseeing the whole operation.
Almost a year in to the job what changes have you made – are you making?
We've been doing a lot of 'behind the scenes' stuff. We've installed a new bibliographic database, we're installing a new fi nance system and also building a new website. In publishing one change we are making is rather than publishing a specific number of books per month we're looking at publishing books which will make an impact in the market and/or the church. Areas we have traditionally been strong in, like Theology and Spirituality, will remain central but we'll probably not mine those areas so deeply for smaller titles.
Children's is an area we are keen to develop strongly (we've got a new children's Bible from Tom Wright coming in a few years) and fi ction is another area we are looking at. We've signed up Kate Charles' series of mysteries and Catherine Fox continues to go from strength to strength. In regard to Bibles we've signed a 10-year deal for the NRSV Bible and we'll be launching a number of new 'editions' in September.
SPCK still has a bit of reputation of being somewhat old-fashioned, conservative (with a small 'c') and traditional Anglican. How accurate is that perception?
It's not an accurate perception of the staff team which is incredibly varied; we're certainly the most diverse publishing company I've worked for. It's true that there has probably been a certain type of SPCK book that people know we're going to do really well with but when you've got a list that includes Rowan Williams, the Pope, Tom Wright and Marcus Borg I'm not sure we can be accused of being that narrow.
The biggest perception challenge for us is around the issue of bookshops. There are still people who think we have bookshops and that's a communication challenge for us. Many of the people who do know about what happened with the bookshops aren't happy with the way it ended up, and nor are we. There are two things to say. Firstly the people in charge at the time did all the due diligence you would expect but obviously it worked out very badly with the Brewers, who let everyone down. Secondly, we could not have kept the bookshops going as they were, the losses were unsustainable. We are sorry for the impact it had on the former staff and the wider trade but if the bookshops had stayed then SPCK as a whole would not be around now.

This is a busy job so time away from work must be important. What do you like to do when you're not doing the day job?
Well I have three little boys, aged 4, 2 and 1, so that keeps me out of mischief most of the time. I do manage to play football one night a week which is good for my sanity and fitness levels.
June 11th, 2014 - Posted & Written by Together Magazine