One of the greatest failings in the Church today is that it places the responsibility for leadership in very few men – and almost all of them at the top of its hierarchy of power.
Jim George's new book, A Leader After God's Own Heart, takes a bold step toward redressing the balance with 15 ways to make every man into a strong biblical leader within the Church.
In the book author Jim George reveals the vital news that every man is called by God to be a leader. "Leadership," says George, "is not a duty of the few – it's the privilege of many. Every man is either a leader or a leader in the making."


"A Christian leader is both spiritual and organizational in his role as a leader." - Jim George
Biblical leadership in church, life and nation
Drawing on the Old Testament example and personality of Nehemiah, this best selling author of A Man After God's Own Heart highlights the character traits of the man who restored an exiled and broken people to their rightful place in God's universal plan for mankind.
Jim George presents Nehemiah as an outstanding example of leadeship with fifteen key characteristics that read across directly into the strong leadership desperately needed in today's church, business and national life. A practical guide to developing your own purposeful role, he creates a vision for leadership you can learn and put into effective action.
Nehemiah: a biblical model for leadership today
Revitalising the returning exiled Jewish nation in the 440s BC, Nehemiah shows all the leadership skills of a negotiator, planner, politician, builder, military tactician and - most of all, as a visionary open to God. A man of great sensitivity as well as strength, Nehemiah is moved by news of the continued dereliction of the ruined city of Jerusalem.
Knowing Jerusalem and its temple to be the heart and soul of the nation, Nehemiah also knows that God is calling him to lead the rebuilding and restoration of the physical, political, moral and spiritual foundation of God's people. His first act of leadership is to negotiate with the most powerful man of the ancient world, Artaxerxes King of Persia.
With permission and resources to rebuild the city walls secured, he personally supervises and completes the defences of Jersusalem in just 52 days. But Nehemiah's leadership goes beyond the material. He organises the repopulation of the city, purifies the worshipping community and returns an empowered spiritually vibrant nation to the laws and traditions of Moses.
Fifteen ways for all men to lead with strength
Jim George takes a refreshingly broad view of leadership without limits. In the Church, in the workplace, in the home and in any other life setting, God desires men who follow him to serve as role models and provide life-direction for others. These are the visible marks of a truly biblical leader.

Among his '15 ways to lead with strength', Jim George offers key characteristics and skills that a man called to lead can grow and develop. These are the attributes all leaders show in effective leadership, and include:
Vision: To give direction to your leadership
Problem-solving: To refine the effectiveness of your leadership
Wisdom: To promote confidence in your leadership
Integrity: To validate the truth of your leadership
Prayer: To give power to your leadership
Old and New Testament callings to leadership
In A Leader After God's Own Heart, Israel's King David is examined as a model of Old Testament leadership. Singled out by God and described by the prophet Samuel as 'A man after his (God's) own heart,' (1 Samuel 13:14 NIV) David's story is compared and contrasted with the Kingship of Jesus as described in the New Testament gospels and letters.
'As you begin reading in the New Testament, especially the epistles, you get a different take on leadership,' writes Jim George. 'The focus takes on more of a spiritual emphasis.' Reconciling the Old and New Testament views of leadership, the author offers them as two sides of the same biblical leadership coin.
'A Christian leader is both spiritual and organizational in his role as a leader' insists Jim George, 'And who better to model these two sides of the leadership coin than the man Nehemiah, a leader after God's own heart who modelled both the spiritual and the organizational sides of true bible leadership.'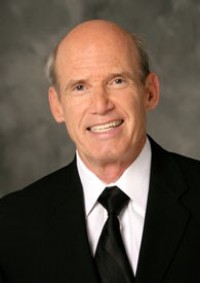 Jim George: author snapshot
Jim George is the author of 16 books, together selling more than 1 million copies worldwide. With a Bachelor of Science in Pharmacy and Masters Degrees in Divinity and Theology he is a popular speaker, former pastor and seminary professor. Jim and his wife of 40 years, Elizabeth, live in Washington. They have 2 married daughters and 8 grandchildren.
Quick Guide to A Leader After God's Own Heart: Jim George
What is it?
Calling all men to show biblical leadership in church, life and nation.
Drawing deeply on the example of Nehemiah in all aspects of leadership.
Empowering God directed leadership in spiritual and material things.
What will it do for you?
Give you 15 ways to lead with strength in church, work and any situation.
Show you the two sides of Old and New Testament leadership qualities.
Present you with a ready made model of biblical leadership in Nehemiah.
September 26th, 2012 - Posted & Written by Les Ellison