Advent has always been a season for preparation and making way for Jesus' birth, and so here's our guide to Advent 2016.
1. Prepare Yourself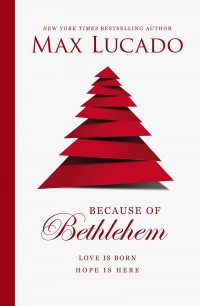 I don't know about you, but Christmas always takes me by surprise.
One September day I'll be casually walking into my nearest supermarket and BAM! Tinsel and Mince Pies as far as the eye can see.
And yet, the one thing that can often get overlooked is preparing your own heart for Christmas.
So before the mad rush beings, if it hasn't begun already, spend some quiet time reading one of our insightful advent guides from a range of inspiring Christian authors:
Because of Bethlehem - Max Lucado's joyful book is brimming with excitement about all things Christmas, and is the perfect book to kick-off the Advent season. In it he examines why we all love Christmas so much, and the reason that it so wonderful and meaningful.
If you're looking for an extra reason to get excited about Christmas, Max Lucado's newest book will give you just that...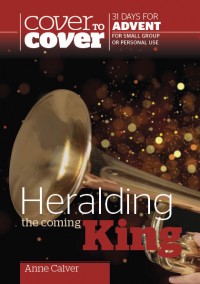 Heralding the Coming King - Every year the Cover-to-Cover series offers up an Advent devotional that is an antidote to the material splurge that seems more and more inescapable every year, and this year is no different.
Heralding the Coming King follows each of the characters in the Nativity story, looking at how Jesus' birth radically changed their life forever, and shows that the Good News of Christ Birth is for all people.
Which leads nicely onto...
Advent For Everyone - Author of the indispensible 'For Everyone' series, as well a great many other books which open up the Bible in easy-to-understand language, Tom Wright has turned his insightful eye to Advent.
Taking you on a journey through the Gospel of Matthew, Tom Wright shows the key themes the run not just through the Nativity, but the whole of Jesus' life on Earth. Advent for Everyone is perfect for understanding all that the Nativity means in a language that is honest, simple, and inspiring
2. Prepare to count the days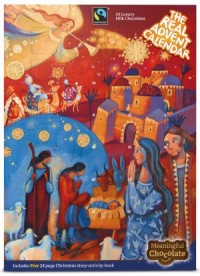 No Christmas would be complete without an advent calendar. It's the mainstay of any Christmas preparation and a daily reminder of the Christmas story.
This year the people over at the Meaningful Chocolate Company have created another uniquely designed Advent Calendar that tells the story of Christmas with a free 28-page booklet filled with activities, puzzles and colouring pages.
To find out more about this year's calendar, head over to our blog post on the 2016 Real Advent Calendar.
3. Prepare Your Home
It's every family's tradition at Christmas: The putting up of the Decorations.
Nothing transforms a home more than all the glitter and sparkle of a perfectly decorated tree, the carefully placed tinsel, and ornaments that rest on every shelf space and mantle.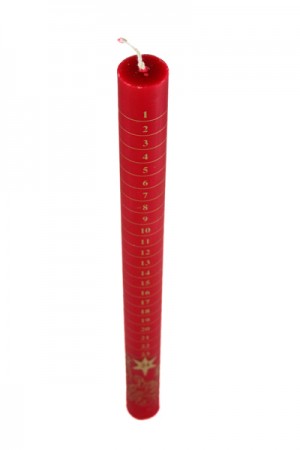 And in the spirit of remembering why we celebrate Christmas, here are some of our beautiful and festive decorations to bring a little extra faith amongst the flocking:
Red Advent Candle Printed with Gold - Not just for Church services, Advent Candles can be placed at the dinner table and bring a little extra Christmas spirit as you all take it turns lighting the candle and remember Jesus' birth.
Nativity Set - No Christmas Decorations would be complete without a Nativity set to treasure and keep, and we have a range of them to suit every style and taste.
Host of Angels - Chocolate Tree Decorations - From the makers of The Real Advent Calendar, these edible decorations appeal to all ages. After all, almost everyone loves chocolate!
From elegant ornamental sets to child-friendly block style Nativities, everyone can be reminded in their own way of the whole Christmas story.
Just watch out for stray dinosaurs that always seem to make their way into Nativity sets!
4. Prepare Together
Every year family and friends come together for Christmas.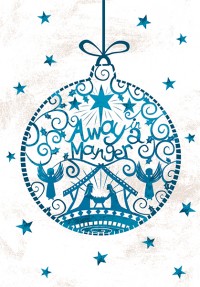 Last year the UK sent around 900 million Christmas cards. What better way of sharing the good news is there than with a Christmas Card?
Filled with verses from the bible, and bearing images of the very first Christmas, all our Christmas cards bear the hope of Jesus' birth. This year we also have a range of Charity Christmas cards made in partnership with Home For Good and Compassion, two charities which change the lives of Children in the UK and abroad for the better.
As well as reaching out, Christmas has and always will be a time for families to come together and share the good news, so he have a great range of children's books for all ages:
For 0-3s:
For 3-5s:
For 5-8s:
For 8 and above:
And don't forget Christmas movies. Movies have always brought people together.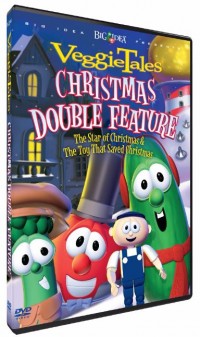 From It's a Wonderful Life to Home Alone, almost every Christmas movie features family reuniting together to celebrate the Christmas season. So snuggle up together with some of our faith-filled films this Advent.
The Christmas Candle - A moving classic Christmas film base on a story by Max Lucado, The Christmas Candle is a moving film which is suitable for all ages.
Veggie Tales Christmas DVD Box Set (4442607) Double the Veggie, double the fun. This Christmassey double feature shows children why we celebrate Christmas and why it's so important.
5. Prepare To Celebrate!
Music has always been the rhythmic heart of Christmas.
From the Angel's songs to today's Carols, we have always celebrated in song the glory and hope of Jesus' birth, and this year is no exception.
2016 has been a bumper year for new worship music, and we simply couldn't go any further without mentioning our favourite Christian music releases of the year: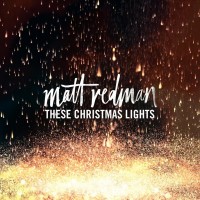 These Christmas Lights by Matt Redman - A blend of new music and reworkings of classic carols, These Christmas Lights is Matt Redman at his most festive, singing of the immense joy of Jesus birth.
Majesty in a Manger - Original Christmas songs from some of the leading Christian artists, Majesty in a Manger is not just an album to listen to, but rather one to bring your own voice to.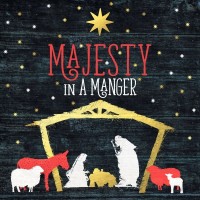 Gaither Homecoming 12 Christmas Favourites - Join in the celebrations with this Gaither collection of gospel songs which paint a meaningful picture of Jesus' life.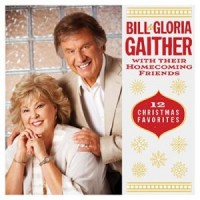 October 26th, 2016 - Posted & Written by Aaron Lewendon