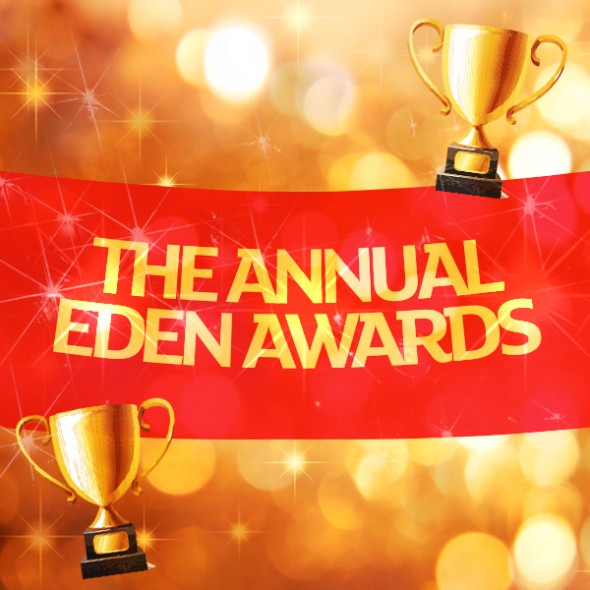 The annual Eden awards are back for 2017. What a fantastic year 2016 was for Christian music. Matt Redman released his first Christmas album, Chris Tomlin stormed the charts and Hillsong barely took a break.
This year there are 8 music categories in our awards, check out the nominees below. Who do you think should win? Let us know in the comments below, or you can tweet us @edencouk
We'll be announcing all winners in our email, via twitter and facebook and across the site on 20th February 2017.
Best Male Artist

Matt Redman - Not only did Matt release his first ever Christmas album, These Christmas Lights, towards the end of 2016, his 2015 release, Unbroken Praise was rarely seen out of our bestsellers chart. We're hoping for a lot more Matt in 2017.
Chris Tomlin - Chris released his 11th worship album in 2016, featuring Summer festival favourite, Good Good Father, somehow, he also found time to tour the USA including special guests: Matt Redman, Kim Walker-Smith, Phil Wickham, Louie Giglio and Max Lucado.
Townend & Getty - We're cheating a little bit here. But we couldn't mention one without the other. 2016 saw the celebration of 15 years of In Christ Alone, to commemorate the fantastic worship do released a new collection of songs that have shaped the worship the world over.
Phil Wickham - Following throat surgery, there was an uncertainty Phil Wickham would sing again. Not content with resting on his laurels though, Phil beat the odds and released Children of God in April 2016. Written as a response to the deep personal revelation that we are HIS children and a call to others who have lost sight of knowing this for themselves.
Toby Mac - For some, it was hard to imagine Toby Mac without his DC Talk bandmates but his new studio album, This is not a Test soon put paid to naysayers. Following critical acclaim at the Big Church Day Out, we're sure that Toby Mac will be successful for years to come.
Song-writer of the Year

Matt Redman - His Name Shall Be (from These Christmas Lights)
Keith & Kristyn Getty - May The Peoples Praise You (from Facing a Task Unfinished)
Ben Fielding & Brooke Ligertwood - What a Beautiful Name (from Let there Be Light by Hillsong Worship)
Matt Hooper - Wide Open Space (from Wide Open Space by LIFE Worship)
Jeremy Riddle - Be Enthroned (from Bethel's Have It All album)
Best Group

Rend - Our favourite Northern Irish band called us back around the Campfire in 2016 with their newest album, Campfire II: Simplicity. Heading back to their roots of simplicity and authenticity they soon has us tapping our toes and singing along.
Bethel - Bethel returned in 2016 with a new live album, their first since the iconic "For the Sake of the World". Recorded live at their weekend service, Have it all features 13 worship leaders from the Bethel Music Collective including Brian and Jenn Johnson, Jeremy Riddle, Steffany Gretzinger, Amanda Cook, William Matthews, Jonathan Helser and more.
Hillsong - 2016 saw the release of FIVE new Hillsong albums:
Of Dirt and Grace - recorded live in Israel.
Piano reflections - A 2 disc collection of popular Hillsong worship songs specially curated for rest, relaxation and reflection.
Let There Be Light - Featuring 12 new worship songs recorded live at Hillsong Church, a powerful mix of praise and worship.
Let Hope Rise - The official motion picture soundtrack for the Let There Be Light film, due for UK release this year.
Youth Revival (Hillsong Young and Free) - The second album from Hillsong's youth band.
Casting Crowns - The only way we could describe Casting Crowns is prolific. The Very Next Thing, released in September 2016 marked Casting Crowns' 15th release and eighth studio album since the label debut release in 2003.The Very Next Thing is a collection of intimate songs as well as upbeat, fresh sounding tracks with impactful lyrics centred around identifying and acting on what's right next to you.
All Sons and Daughters - All Sons and Daughters released their newest studio album in 2016. The new album is inspired by a pilgrimage David and Leslie took across Europe in hopes of experiencing the lives of poets and saints, including St. Francis, St. Terese, C.S. Lewis and George McDonald.
Album Artwork of the Year

Album artwork seemed to fall in to two camps in 2016. Bright and eye-catching (Come Alive, Campfire II, Never Gonna Stop) or understated and classic (Still, Piano Reflections and These Christmas Lights) Which do you prefer?
Campfire II
These Christmas Lights
Never Gonna Stop
Come Alive
Piano Reflections Volume 1 & 2
Still (Vol 1)
Best Compilation

WOW Hits 2017 Deluxe Edition - For many, this is the album people eagerly anticipate year after year. This year's was no different. Featuring a bright cover and new praise from Chris Tomlin, Casting Crowns and more. This is sure to keep you going until at least WOW Hits 2018.
World's Favourite Praise and Worship Songs 3CD- Following on from the success of The World's Favourite Worship Songs 3CD Box Set, the name says it all. From artists like Matt Redman and Rend Collective, these are worship songs adored across the earth.
Build Your Kingdom Here - Featuring the best of live British worship from artists including Matt Redman, Graham Kendrick, Trent Vineyard, Worship Central and more. This album gave us all a reason to feel proud of Britain.
Ultimate Worship 2017 - Another eagerly anticipated album year after year, Ultimate Worship makes good on its title. The 2CD compilation features the likes of Rend Collective, Life Worship and many more.
99+1 Praise Songs For Children - The children weren't left out this year, with a bumper 4 CDs of praise especially for them to enjoy. Jam packed with favourites including Boing, Joy in the House and 98 more!!
Best Female Artist

Phillipa Hanna - Fresh from her tour opening for Leona Lewis, Phillipa dropped her 5th studio album: Speed of Light. Popping with feel good, joyous faith this album bought sunshine even on the dreariest of days. Not content with that, Phillipa also support global super group, Little Mix on their European tour in 2016.
Lauren Daigal - Dove-award winner released her album, How Can it Be in October 2016. Amongst the busyness of that time of year, Lauren's smoky and sweet voice provided compelling lyrics and the invitation to draw closer to our creator.
Kristyn Getty - The Gettys had a bumper 2016. As well as releasing their studio album: Facing a Task Unfinished CD and an accompanying DVD, they also released the bestselling Children's album: Getty Kid's Hymnal featuring captivating worship for little ones.
Amy Grant - After a 20 year wait we were finally able to celebrate Christmas with Amy Grant again. Tennessee Christmas featured updated versions of her much loved Christmas recordings as well as a host of Christmas favourites. The perfect accompaniment to hot chocolate and snuggling up at home.

Best Live (non-studio) album

Let it Echo Unplugged - featuring live, acoustic versions of Jesus Culture favourites.
Let There Be Light - Recorded at the Hillsong Church
Never Gonna Stop - Recorded at Soul Survivor summer festivals during 2016
Of Dirt and Grace - Recorded during a pilgrimage to Israel
Have it All - Live worship from Bethel Church
Worship Album of the Year

Campfire II -Footstomping joyous worship from our favourite Northern Irish group.
Let There Be Light - Powerful, anthemic worship from the ever popular, Hillsong Worship.
Have it All - Filled with new songs all caught up in the desire to authentically worship and experience God.
Never Gonna Stop - Capturing the passion of the Church's next generation and featuring the only recorded version of Good Good Father sung by a female worship leader.
Let Hope Rise - Just a taster of what's to come in the Hillsong film,a journey through their heart and history.
Let it Echo - 12 months of craft, recorded at their church in Sacramento, Jesus Culture share a culture-shifting shout of praise.
Who do you think should win? Let us know in the comments below, or you can tweet us @edencouk

February 10th, 2017 - Posted & Written by Laura White