Introducing the Christian Damian Rice – Nathan Jess – the twenty something worship leader from Northern Ireland. We talked to Nathan about his musical journey, his heart for worship and writing, touring with Ben Cantelon & Rend Collective, and the most congregational songs from his debut album – 'Love Stands Forever'.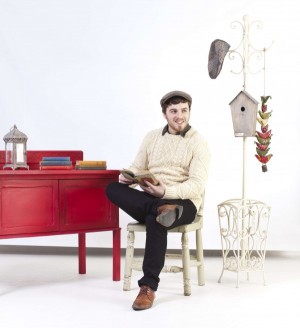 "My Dad was a Lay Preacher so we did the Von Trapp Family act – the singing extravaganza. I started learning guitar in primary school but then dropped it and the instrument was sold. It's a cool story because I forgot about the guitar and then found my mum's guitar one day; I didn't even know she played!"
"I dusted it off and would put my fingers in random places and strum, which probably wasn't pleasant for people. I used to download every Oasis chord sheet that I could find, sit in my room and play Oasis songs. I grew up in school always playing music in really terrible rock bands with equally terrible names."
Nathan began his worship leading journey as many young people do; because his school's Scripture Union group needed a worship leader and he could sing and play the guitar. "I was thrust into the position. Right from the start it was very natural; I didn't feel strange but comfortable in the right way."
"When I sat down to pen songs, I naturally wrote in a 'songwritery' style. There was much more storytelling, more narrative, more introspective and often depressing. That's the music I love. I look up to Glen Hansard from 'The Frames' and Damian Rice. If I sat down to write a song without an agenda that's what came out."
While studying music at Queens University in Belfast, Nathan balanced these two contrasting musical styles – worship and Irish songwriting – until he was commissioned to write the closing music for a French film. After writing three different songs to pitch to the producers, he remembered a chorus he'd put on the back burner. He tweaked and expanded the chorus which turned into a worship song called 'I Am Redeemed', which is now widely used in many churches.
"I had a penny-hitting-the-floor moment. It sounds really silly because I look back in hindsight and think: I was writing songs and leading worship, why did I never think to do these two things together?"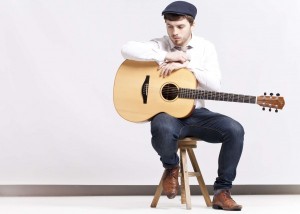 The young worshipper, fresh out of Queens University, scored the opportunity to support Casting Crowns in Belfast. A member of Integrity Music's staff heard Nathan play 'I Am Redeemed' and by the next year he'd signed a record deal and begun recording.
"My whole agenda and goal in songwriting stems from the fact that I firmly believe that I did the songwriter thing in God's plan; that wasn't misdirection. I feel that God brought me there to learn the craft. I want to write songs for Sunday morning and congregations, but I still carry and bring the songwriting style into that. Hopefully I can bring something that's fresh with a different angle. Diversity in the worship scene is a good thing."
Touring With Ben Cantelon & Rend Collective
Earlier this year (January-March 2013) Nathan joined Ben Cantelon on his 'Everything in Colour Tour' playing in venues and churches across Cornwall, Southampton, Ballymena, the Netherlands and Birkenhead. "The Ben Tour was a lot of fun. Ben had his band and they're a bunch of great guys and I jumped into the bus with them. A lot of the time was spent sitting on this little bus and chatting."
"Sometimes on these tours people come to be entertained, there's this gig concept – we've paid money and we want to see a good show. With the Ben Tour people were there with a heart for worship which made it such a lovely tour to do and a privilege to get up every night and have a captive audience of people who want to join you in worship, sing new songs and praise God all night."
"Ireland is obviously a small country so everyone knows each other", joked Nathan as we talked about his relationship with the Rend Collective Experiment. "Going back a couple of years we used to do a lot of gigs together; before they were mostly American. It was a lot of fun to reconnect with those guys and have fun playing with them again. In Bristol it seemed like the Irish were taking over, which is always a good thing. When you've got an Irish headline and an Irish support you know it's going to be good."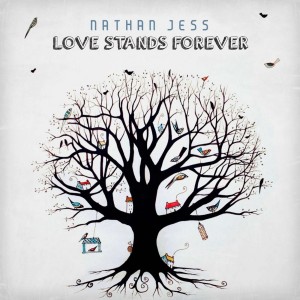 Love Stands Forever
Nathan's musical approach is far from the average electric guitar driven pop/rock modern worship sound. The album has lots of exposed moments where emotion leaks through; with inventive acoustic guitar chord sequences, thick vocal harmonies and a quirky glockenspiel. Time and again you'll hear the subtle influences of his songwriting past shining through; but in a fashion, that reflects a congregation worshiping together.
"I wrote a song with Luke Hellebronth (from Worship Central, writer of 'Spirit Break Out' & 'Our Generation') called 'No Limit To Your Love' - where the title for the album comes from. Speaking from experience, when I've used this song I've seen people engage with it, understand it and make a heart connection with God."
"There's a song based on an old hymn called 'When All Your Mercies', which gives the hymn-like feel to the song still, even with the new tune." Nathan played this song on a live stream promoting the album; a pleasantly haunting performance of the reflective worship song with capoed chords and intricate musicianship.
"There's probably always a song I will connect with most as the artist who wrote it: 'Be My Obsession' is it for me. If I was to go to my music player and put one song on it would always be that one. It's not a song I've used much corporately; but in private worship it's a really big one for me."
"It's a funny one. I was sitting one Sunday afternoon and I lifted my guitar to work on some songs that needed work. I ended up writing a song. A couple of weeks later we were in the studio and that song was recorded. For me, that's one of my favourites."
'Love Stands Forever' is fundamentally a worship album to encourage and inspire praise. These songs sound great on the CD, but ultimately Nathan hopes they will do more than simply stay in the CD player. "I write songs with the hope that someone somewhere can really identify with and find comfort, restoration, encouragement, hope and joy within them. I try to find poetic language that makes a deeper connection with the listener/worshipper."
What's Nathan Listening To?
"It's always funny in church when I'm chatting to people. They'll say: "have you heard this new song?" and I always seem to be behind. A big worship album for me has been Matt Redman's. We sing loads of his songs in church and they've been around for ages. Now he's come back and absolutely nailed it with '10,000 Reasons'. I can see it because I'm naturally using and singing these songs when I'm leading."
"More in my song writery world, I'm really into John Mark McMillian, who wrote 'How He Loves Us' which is very well-known. Everyone knows it from the Jesus Culture arrangement. He writes these incredible songs with unbelievable poetry and lyrics that you have to write out and mull over and discover all the depths he's crammed in."
Nathan's worship songs will be coming out in the next Worship Songbook due for release in July. If you can't wait till then, you can also find the chord sheets, sheet music and lyrics for 'I Am Redeemed' & 'No Limit to Your Love' on Integrity's new website – We Are Worship.
June 8th, 2013 - Posted & Written by James Warwood