OK you might do devotional. But in general, most of us men don't. Ask us if we should do devotionals and we'll most likely say 'yes' almost to a man. But we don't. So why is that, and is there a devotional out there that men would not only do, but feel better about ourselves for doing it?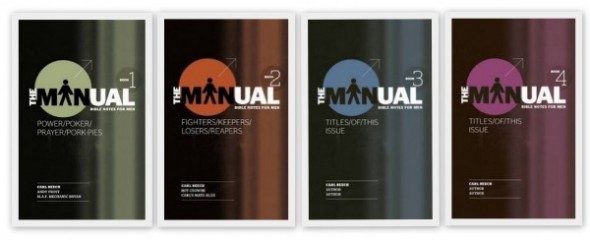 The Manual Bible: For Men
Why Men Don't Do Devotionals
Men are supremely rational beings. We only do stuff if it'll make something happen, make it work properly or make it work better. Achieving that is what makes us feel good about ourselves. We're also better at doing stuff for others than doing it for ourselves. Devotionals sound a bit… well, selfish so we need a word from men we respect to give us permission to do something just for ourselves.
Men also like to have the right tools for job, and preferably all in one place. If those tools will fit in your pocket - like a Swiss Army knife or a Multitool, even better. And they need to not look like something your wife or girlfriend would use. In short if there is a devotional for men it needs to look like a devotional for men. It not only needs to be the tool for the job, it needs to look like the tool for the job.
And that's what a devotional should be: a tool for a job. It should prise open the Bible like one of those devices on a Multitool and cut to the truth like a Swiss Army blade. It should let you get from the Bible the stuff you need to make your day work better for you. And that's not selfish; if your day works better for you, it'll work better for everyone.
I can't believe it's taken devotional writers this long to work out what men want from a daily Bible opening tool. Finally they have, or at least Carl Beech has. A man in a man's world, Carl Beech does or has done all the stuff men do – including hoiking a record breaking catfish from a river in Spain. CWR's head of Vision for Men, Carl rounded up a gang of manly men – including bush pilots, business men, sportsmen and musicians to create 'The Manual': the all in one pocket size devotional for men only.
Power, Pleasure and Pork Pies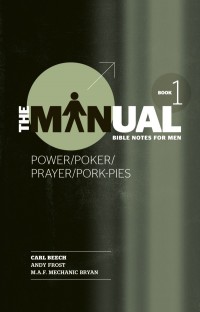 The 'Manual' gives you pocket size devotionals your wife or girlfriend would not want to be seen with. Muscular covers in olive green, navy blue, chocolate or maroon carry strong word titles like 'Power/Poker/Pleasure/Pork Pies' (book 1), 'Fighters/Keepers/Losers/Reapers' (book 2), 'Son/See/Surf' (book 3) and 'Attitude/Gratitude/Proper Food' (book 4).
Just a bit bigger than your smart phone, each book gives you 60 five minute devotionals in less than 300 words each. That includes a Bible verse printed in full, a brief exploration that ties its meaning into your day and a few lines of prayer. Every devotional is as practical as a Multitool and as sharp as a blade. And there's no dates on the pages, so you're not tied to a calendar and not ruled by time.
With four books in the series so far, they're cheap enough to try one and quit if it's not you. If it is – and I think it will be, you can take them all and make them last a year of weekdays with space to miss a few. Opening up the Bible quickly and with purpose needs the right tool for the job, The Manual is just that – making you a better man for the day, and the day better for you… and everyone else.
For a detail look at The Four Book Manual Series click the link and choose the Manual that's best for you, your day and everyone else.
November 1st, 2012 - Posted & Written by Les Ellison