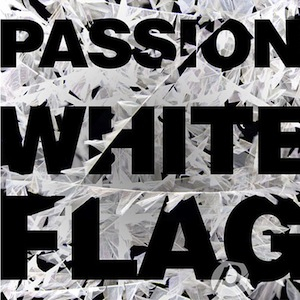 The US based movement known as 'Passion' has been loudly gathering momentum over the past 15 years.
Calling students from campuses across America together for large scale events, the Passion name is well known.
The most recent event saw 40,000 people pack the Georgia Dome in Atlanta for four days of worship and teaching.
But more than an event, Louis Giglio and his fellow organisers want Passion to be known as "a generation living for his name".
If it's possible to capture such a motto on a CD, then Passion have done it with White Flag.
Opening with Kristian Stanfield's Not Ashamed, the album is off to a bright start. Fast paced with a heavy drum and bass line, the song mimics the kind of energy we've come to expect from the likes of Hillsong United and Jesus Culture.
As the song finishes, Kristian sings: "We'll be that city on a hill burning brightly / We'll be a light to the world shining your glory". This leads seamlessly into Chris Tomlin's White Flag.
Strong imagery is adopted as Tomlin sings about battles, fights, rebellion and weapons. These verses build into a victorious chorus of "We raise our white flag/ We surrender all to you". With a marching beat and strong guitar and keyboard sounds, it's a bold song and one of the best on the album.
Passion albums often influence what songs churches sing on a Sunday morning. God of This City was relatively unknown until Chris Tomlin covered it at Passion in 2007.
Our God (Is Greater), You Alone Can Rescue and last year's Here For You can also be cited as songs that Passion have helped spread.
Jesus Son of God could well be the next You Alone Can Rescue. Poetic and beautiful lyrics sit over a bed of soft guitar sounds. A powerful chorus of "On the altar of our praise there will be no higher name / Jesus son of God" is both robust and graceful. The bridge takes the song to a further level of intensity as Tomlin declares: "The cross was enough".
Jesus Son of God gives way to a stunning spontaneous song with the simple lyrics of "How I love you Jesus". Sung by Christy Nockles, it may be brief, but the track has a lasting impact.
David Crowder Band have been regular contributors to Passion events. Their appearance in Atlanta would be the final time they played together.
You would have thought the 34 tracks they had recently recorded for their final album would be enough to pull together a full set list. But the band were obviously overflowing with material as a new song named All This Glory made an appearance.
While it's not the best track the Crowder band have written, fans will no doubt appreciate yet another new song.
Lay Me Down follows in the footsteps of last year's Set Free as Matt Redman and Chris Tomlin share the singing of a fast paced celebratory song.
It's not quite as catchy as last year's production, but Lay Me Down is less cheesy and more mature than Set Free.
Like some of the other songs on the album, Lay Me Down has an unusual ending to it. It's good to see worship leaders pioneering fresh arrangements and thinking carefully about the music as well as their lyrics.
Yahweh is intense. While no song will ever capture the holiness of God in a song, it's nice to see Chris Tomlin attempting to bring a greater sense of awe and respect to our times of sung worship.
Kristian Stanfill's cover of One Thing Remains is an unremarkable cover of an outstanding song while Christy Nockles' Sing Along is a moving number that talks of God wrapping his arms around the world.
Yet another Chris Tomlin song follows. The Only One has a fantastic drum sound and interesting guitar solo. While the melody feels unfinished, few would argue with the simple yet effective lyrics.
Charlie Hall just has one song on this year's album. The worship leader has one of the most distinctive voices in all of Christian music. "Sweet Jesus Christ my sanity", Hall sings over a quiet acoustic guitar line and gentle violins.
Taking inspiration from the liturgical acclamation of the same words, Hall sings "Christ has died, Christ is risen, Christ will come again". It's not often such large scale, non-conformist events give a nod to tradition, so the inclusion of this interesting new song on the album should be welcomed.
10,000 Reasons is fairly unremarkable. It sounds identical to Matt Redman's original recording. But the final song on this 14 track album is worth talking about.
Chris Tomlin has demonstrated a unique ability to adapt old hymns and songs while retaining their original power. His versions of Amazing Grace and All The Way My Saviour Leads Me are good examples.
Closing Passion's White Flag album is the song No Turning Back. It's a stunning arrangement of I Have Decided to Follow Jesus. Arguably the greatest song on the album, Tomlin's passionate lyrics and the band's thoughtful arrangement results in a fitting end to one of Passion's greatest albums to date.
Passion's albums are often considered 'must-haves' by worship leaders. It's easy to see why. Whether your church is looking for a collection of new songs, or you just want to find out what 40,000 university students praising God sounds like, White Flag does not disappoint.
Rating: 8 out of 10
March 8th, 2012 - Posted & Written by Sam Hailes