I never know what to get people at Christmas. In my head are a million questions and doubts always running at once:
'Will they like it?'
'What can I get to go with this?'
It's a lot of worry, which is the very last thing anyone should be having at a time when we celebrate Jesus' Birth, and because we don't want people who shop with us to be in the same predicament, we've decided to make things a little easier.
We've grouped some of the items which we think work really well together, saving you more time to spend enjoying hot mince pies and Christmas Carols.
For a bit of everything you need for Christmas...
The Ultimate Christmas Bundle: All the ingredients you need to have a wonderful Christmas together, the festive music of Rend Collective and Chris Tomlin, a 2017 calendar, diary, box of fancy Marc de Champagne Truffles, a Meaningful Chocolate advent Calendar, journals, and more!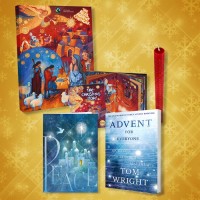 For a deeper Advent...
The Advent Bundle 2016: Looking for a way towards a more meaningful Christmas? We've put together all you need to journey through advent and reflect more upon the season, including a Chocolate Advent Calendar, a pack of Christmas Cards to share with friends and family, a poignant Advent Candle, and a copy of Tom Wright's debut seasonal devotional, Advent For Everyone.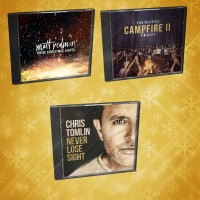 For the Woriship lovers...
Best New Music of 2016: For the Christian Music fan, we've put together the best three CDs of the year by the top Christian Artists. With a brand new Campfire album from Rend Collective, all new worship by Chris Tomlin, and a Christmas release from Matt Redman, there's enough here to keep feet moving all through winter and beyond!
For Christian Movie fans...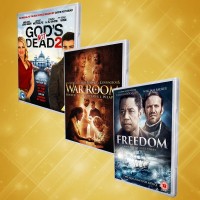 Top Movies of 2016 Value Pack & Christmas Eve Movie Night: One of my favourite things about Christmas is movies. Flicking through the Radio Times, breaking out the green highlighter and circling which movies I want to watch whilst wrapped in a duvet. And so, for film fans out there, we have two different bundles of Christian Movies to watch during the cold, winter nights.
In our top movies bundle we have three of the best Christian DVDs of 2016, featuring God's Not Dead 2, Freedom, and the runaway hit War Room.
Or, for a family night in, we have put together a movie night pack which includes chocolate for both kids and grownups, and The Christmas Candle, a festive film based on the popular Max Lucado short story.
Be sure to keep an eye out for bundles across Eden.co.uk. You'll see them on many of our product pages, just below the image, and will be our hand-picked recommendations, bringing together the very best of what's on offer.

November 11th, 2016 - Posted & Written by Aaron Lewendon