A group of artists in Wales have joined together to create an innovative interpretation of the Easter story, using a boarded up pub as the site for their work.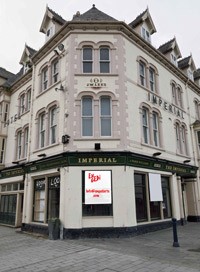 The Imperial Hotel, Colwyn Bay - in need of new life
Artist and musician Gavin Mart, who set up EngediArts.com as a hub for the arts in and around the Colwyn Bay area has commissioned 40 art works from some of the top Welsh contemporary names - including contributions from two Royal Cambrian Academy Members, as well as some established and up and coming new talent.
Their aim is to create a project that re-tells the Easter story in a way that is appealing to Christians and non-Christians alike.
Gavin Mart said: "Engedi Arts is interested in what Jesus' story looks like to non-Christians, without the perceived barrier of the traditional church building standing in the way. The artists are mostly chosen to represent 'non-churched' communities."
The Easter Story Exhibition, which launches on the 31 March, will see the 40 artists using 40 Bible passages to tell the story of Jesus' suffering, death and resurrection. Their work will highlight themes including women's role in the gospel, the economy, and the community's relationship with the church.
The project is also seeing local volunteers rally together to renovate the Imperial Hotel pub in time to host the exhibition. It will also play host to a number of other community events to coincide with the exhibition including an opening launch party, various creative workshops, an alternative worship event, and a closing Easter Sunday event.
Gavin, who is a student on the CMS Pioneer Mission Leadership Training course, and a VentureFX Pioneer appointed by the Methodist Church, hopes to eventually turn the Imperial Hotel pub in a community hub for the arts, if he secures the funding. It is hoped that the venue will be used as a site for an artistic expression of the scriptures, which the local community can engage with in "non-threatening" environment of a revamped pub.
March 22nd, 2012 - Posted & Written by Riyaza Rodriguez