From the imagination of dynamic Christian communicator and computer animation maestro, Phil Vischer, the Veggietales cast of characters from the fridge and fruit bowl serve up fresh, fast and funny faith-building stories and songs to children from 3 to 10.
But if you've missed out on the fruit and veg faith-focused fun, where should you start?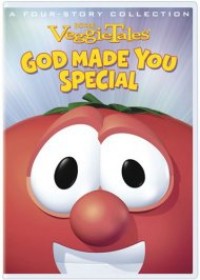 With its key message of 'God made you special', VeggieTales is the Bible rich DVD series bringing the basics of faith with fun to school age children. Through retold Bible stories and classic children's fiction with a new faith-based heart, words and images stay with children and help them understand what following Jesus is all about. Using the same computer animation as the Toy Story movies, the series runs to more than 45 DVDs where a whole host of new friends join original Veggie Stars, Bob the Tomato and Larry the Cucumber, in fun, faith-filled adventures beyond the kitchen worktop.
VeggieTales DVDs draw their inspiration from well known Bible stories, children's classics and even big screen movies. Keeping up the veggie theme, The Penniless Princess: God's Little Girl, is the latest tossed salad retelling of the Francis Hodgson Burnett classic, The Little Princess, famously played on screen by child star Shirley Temple. While The Wonderful Wizard of Ha is a refreshing fresh food-take on The Wizard of Oz but based on Jesus' story of 'The Prodigal Son' with a child-friendly look at loss and redemption.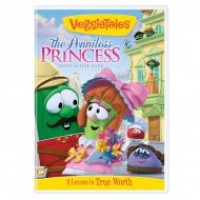 New DVDs are added all the time with Christmas and Easter specials an annual highlight. New for Christmas 2012, It's A Meaningfulful Life is a produce-based take on the James Stewart classic movie with songs and a storyline to help children learn the meaning of real contentment. Many of the songs from the DVDs have achieved children's hit status and feature on their own compilation CD and DVD Silly Song albums.
VeggieTales - Where to start now?
But if you've never shown a VeggieTales DVD to your children, where's a good place to start? Well, for an introduction and overview of what VeggieTales has to offer, choose one of the later compilation DVDs. Lessons from the Sock Draw gives you a well seasoned medley of 15 short Veggie Episodes and two brand new stories.
If you're looking for something to show over Christmas or Easter, then choose one of the later seasonal specials such as The Little Drummer Boy, made for Christmas 2011, or the Easter retelling, Twas The Night Before Easter. And if want something to sing along to, order the Ultimate Silly Songs Countdown compilation DVD.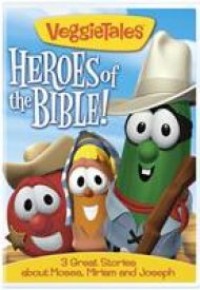 For your school or Sunday school, a collection of retold Bible stories will keep children watching, listening and learning. The Veggie bestsellers, Heroes Of The Bible gives you a new look at Daniel, David, Esther and many others. If, as a grown-up, you want to share the fun with your children –and who doesn't, then don't miss the Veggie classic remake and lesson of faith, Sumo of the Opera: "A Lesson in Perseverance", a parody retelling Phil Vischer's own financial troubles, bankruptcy and ultimate rebirth of his original VeggieTales company.
Children who grow up with the series love and remember its key characters, catchy songs and simple overall message that 'God made you special, and He loves you very much!' With Christmas coming, VeggieTales offers a gift opportunity with exceptional value when you order Eden.co.uk Veggie value packs. These not to be missed packs kick start your new VeggieTales collection with huge savings over buying each individual DVD. – Les Ellison


Quick Guide to VeggieTales DVD series and music CDs
What are they?
DVD fun in story and song for children told by CGI animated fruit and vegetables.
Bible rich themes, activities and games presented with a fun and friendly focus.
Fully learning and lessons with reading books and online interactive resources.
What will they do for me?
Give you quality family entertainment and interaction to engage school age minds.
Provide leadership resources for parents and teachers to share the Bible with 3-10s.
Introduce children and families to the Bible through high quality DVD entertainment.
April 20th, 2012 - Posted & Written by Les Ellison