"You can please some of the people all of the time, and all of the people some of the time... but you can't please all of the people all of the time." OK, that's a more cynical version of the quote attributed to Abraham Lincoln, but how does Tom Wright's Series of New Testament Commentaries measure up to the claim of its title?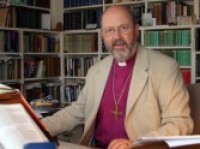 Tom Wright doesn't set out to be crowd pleaser. He has too much respect for his subject – and his audience, to make that his starting point. Instead the writer, scholar, theologian, former Bishop of Durham and now Research Professor of New Testament and Early Christianity at The University of St Andrews turns to precise argument and the force of scripture itself with the aim of liberating convention-bound Christians daring them to read the Bible more carefully.

His point is that the Bible is for everyone: the gospels are for everyone, the early Christian letters are for everyone and Christ is for everyone – not his guides. That would be a pompous claim and not the style of the man at all.
So Who is Tom Wright's 'For Everyone' For?
Tom Wright always pays close attention to the Bible's original context and their application to life today. This means his commentaries and study guides will lead you in new and sometimes discomforting directions. So For Everyone isn't for readers who don't want to know more about the Bible and don't want to live more closely to its message.
Also writing as N T Wright, he's a scholar who knows and loves his subject, so he's not going to gloss over a tricky bit of theology or offer a glib explanation. Especially for something that really suggests a meaning uncomfortable to our conventional understanding of what it means to be a Christian and to do church.
He doesn't write at a Sunday school level, but neither does he involve readers in the trench warfare of the theological minutia which can mean little to anyone in their daily life. Rather, he writes at the level of those who aren't afraid to step out of the comfort zone of their own understanding and take the risk of being tested and changed.
New Testament Prayers and Wisdom
Even so, there are times when Tom's Single Book New Testament Commentaries are on the heavy side for ordinary Bible readers.
For these times, he offers his For Everyone Bible Study Guides, leading you through the main themes of the gospels, acts and letters, and offering insight for special times such as Lent.
And because following a Bible theme can be more important than knowing the details, Tom now adds guides to New Testament Wisdom and New Testament Prayers, because the Bible is for all of the people all of the time.
April 4th, 2013 - Posted & Written by Les Ellison