April is Internet Evangelism Month, according to the Internet Evangelism Coalition. Its aim is to help the Church understand how vital it is to connect with people via the Internet, and also to equip them with resources in order to do so.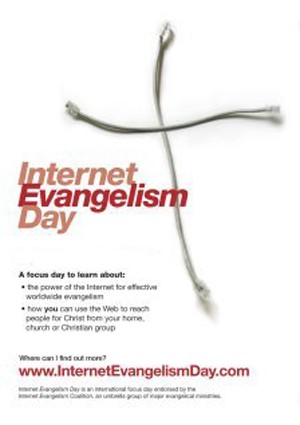 The month culminates in Internet Evangelism Day (IED), which falls on April 29th this year. Churches are being offered the chance to use free resources available on the IED site to create a presentation to use on, or near, the day in order to encourage their members to use the Web to share their faith.
The day is the brainchild of Tony Whittaker, co-ordinator of IED, and has been run annually since 2005. Since it began, YouTube, Facebook and Twitter use has exploded. Tony explains:
"The last 15 years have changed our world for ever. Digital media are transforming the way we communicate, behave and even think. If Facebook were a country, it would have the fourth largest population in the world.
"Until recently, internet evangelism was largely an intentional specialism. Now, with the 'three-fold cord' of social networking, mobile phones and sharing video clips, it is something that any online Jesus-follower can be involved in.
"Internet Evangelism Day is both a year-round resource guide and an annual focus day each spring – this year on 29 April."
The initiative has had a lot of positive feedback. For example, Andover Baptist Church said:
"We held a specific Internet Evangelism Day service at our 'Cafe Church'-style evening. I used the initial presentation to talk about the Internet, and some evangelism strategies, and asked people to come up with ideas for potential outreach sites on the web.
"It was really encouraging to see a lot of inventive and creative ideas! We are working on re-developing our website at the moment, so hopefully will have a dual church/outreach focus in what we do."
Internet Evangelism Day has a lot of support from leaders around the world. Christianity Today is part of the Coalition and its executive vice president Keith Stonehocker said:
"We have watched the growth of the Internet as a powerful evangelistic tool, and as web usage has exploded around the world new doors for outreach and discipleship are opening every day. Internet Evangelism Day provides an ideal opportunity for churches to focus on this growing mission field, and find new strategies and resources for reaching the world through the web."
The Internet Evangelism Day team also provides a year-round blog on issues surrounding digital evangelism. To view it, and other resources available – including ebooks and smartphone apps – click here.
April 2nd, 2012 - Posted & Written by Claire Musters