It's hard to think of a time when Scripture Union's Lifebuilder Bible Studies weren't every house group leader's 'go to' guide. Now spanning more than 100 titles, Lifebuilder has grown year on year with studies aligned to 4 key foundation subjects: Topical, Characters, Old Testament and New Testament Books.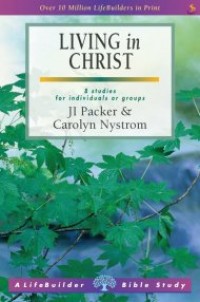 Lifebuilder has been a part of millions of Christians' lives for many years. Used either as a personal study or more usually in a house group, why is the series so popular? What is the secret to the success of this unstoppable series?
For many, studying the Bible can be a huge challenge. Leaders can find it difficult and time-consuming to plan and prepare an effective study. The Lifebuilder series is created and presented in an easy to use format helping Christians understand and apply God's Word.
Lifebuilder Bible studies are divided into easily manageable sections. For people to get the most out of the studies, some preparation is required, though this consists mainly of reading the relevant pages and looking through the questions before meeting with the group. A little preparation helps people formulate the answers they want to give and further questions they want to ask.
The format of each Lifebuilder study follows a similar, simple lay out. The studies vary between 8-12 sessions and each gives a rounded view on whichever theme, character or book you choose to study. Each session gives you an introduction to set the scene, and helpful instructions for how to get the most out of it; whether you're studying on your own, or as a group.
Questions and discussions throughout the studies range from the very practical, through personal reflection, to more specific questions that dig deeper into the text. The series creators know that house group studies flow smoothly when people are comfortable around each other. But when groups first start out, they need help to focus and settle. For this reason, Lifebuilder sessions and questions can be adapted and tailored to suit your group.
Lifebuilder authors contribute insight and experience from many different denominational backgrounds and theological viewpoints. Authors such as JI Packer, John Stott, Eugene Peterson and Douglas Connelly ensure that all Bible passages and themes are brought to life for the widest range of individuals and groups. Their knowledge and wisdom in interpreting God's written word is nowhere better presented than in these recent additions to the Lifebuilder series:
Exploring the characters of: Abel, Noah, Abraham and Sarah, Isaac, Jacob, Moses and Rahab, Heroes of the Faith uncovers how God uses ordinary people to do extraordinary things, inspiring you to grow and live out your heroic faith. Living in Christ gives you 8 studies instructing and guiding you toward a life lived 'in Christ'. Each study is designed to show you practical ways to walk with Christ and draw you into a fruitful and joyful experience of living.
Nourishing your personal prayer life or enriching that of your group, Prayers of the New Testament opens up the stunning language and metaphors of 8 New Testament prayers from the gospels, letters and Revelation. In Moses, Lifebuilder helps you get to know one of the greatest leaders of all time. Following biblical principles on leadership and the challenges Moses faced, this study leads you toward fulfilling your responsibilities - big or small, in a way that honours God.
Whatever you or your house group is looking to study, you'll be certain to find Lifebuilder challenging and encouraging as you grow in faith and knowledge - not just through the studies themselves, but from the discussions and prayers that are sure to become a feature of each session.
Quick Guide to Lifebuilder Bible Studies
Choose your Topic/ Character/ Book of the Bible
Plan and prepare by reading the relevant scripture and considering the questions beforehand
Work through the 8-12 studies
Enjoy discussing and growing together as Christians
Use as a small group study or for personal study
February 1st, 2013 - Posted & Written by Anna Hockley