Nick's unique and inspiring life is a tale of unimaginable obstacles, faith, hope, love and now fatherhood.
Life Without Limits
Nick Vijicic (pronounced 'Vooy-cheech') was born without arms or legs. A limbless son was not what his nurse mother, Dushka Vujicic, and her pastor husband, Boris, had been expecting. How could their son find happiness, purpose and love in a world designed for hands and feet?
Now 30 years old, Nick has travelled the globe inspiring millions of students, teachers, youth, businessmen and women, entrepreneurs, and church congregations. Nick plays golf, has skydived, learnt to surfboard, cooks for friends and head-buts every single obstacle with determination and faith in God. He has even appeared on Oprah; receiving a standing ovation.
His first book – Life Without Limits – tells the story of his unique childhood, his painful teenage years and his subsequent rise to becoming an internationally loved motivational speaker. "If God can take someone like me, someone without arms and legs, and use me as His hands and feet, He can use any – body. It's not about ability. The only thing God needs from you is a willing heart." – taken from Limitless.
Falling In Love
"I defiantly had doubts that I'd ever get married, that I'd met anybody that would love me and spend the rest of their lives with me; because I'm prince charming with a couple bits and pieces missing."
In an interview with an Australian news station, Nick and his wife Kanae, sat holding hands and reminiscing about meeting each other. The words 'electricity', 'love' and 'perfect match' bounced around the room from two glowing faces. Then Kanae explained: "the moment I meet Nick I was looking for other things, all those things I found them in him. That's when I thought: 'Wow, he's not just boyfriend material, he could be my husband."
"There's always been a huge chemistry between the two of us. Sometimes, at the beginning, people would say don't kiss so much. It was shocking to me because it was something I'd never felt before."
In describing their romance and relationship, the interviewer used the words: 'the worlds most unlikely love story'. But Nick described it as 'special'. "People would come up to us and cry, and say: 'Now I believe in true love again."
The Proposal, Marriage & Pitter-Patter of Tiny Feet
In 2011, Nick took his unsuspecting girlfriend on a yacht in Santa Barbara, on the coast of California.
"I was going: 'Baby can I kiss your hand?' And I put the ring down her finger all the way. She was saying: 'What are you doing, why are you biting my finger?' I pulled back and then she saw there was a ring on it. Her eyes widened, tears appeared immediately and I said: 'Baby I love you, would you marry me and spend the rest of your life with me?' And she cried."
The happy couple tied the knot in February 2012; settling down in California where Nick runs his non-profit organisation, 'Life Without Limbs'. They had their first child early this year, Kiyoshi James Vujicic; born with ten fingers and ten toes. Their beautiful baby boy was named after Kanae's dad, who died of cancer and never met Nick, and shares his middle name with his proud dad.
From No Limbs to No Limits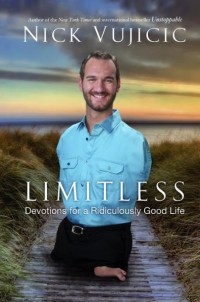 Nick's story and life attitude offers everyone perspective. When he says: "I am a man enabled, not disabled", your own circumstances are given a kick up the backside. When he says: "Where you are weak, God is strong", you can feel your faith being given a booster jab. And when he says: "You need a relationship with Jesus Christ as your personal saviour", something inside clicks into place.
Limitless is a collection of bite-sized devotionals for when you need encouragement, strength and motivation. Each reading begins with scripture, flows into a story and finishes with an inspirational paragraph for you to speak into your situation.
In the introduction, Nick explains his book's purpose: "Like me, you may not be able to see or even imagine what He has in store for you. My goal with this devotional is to help you expand your vision and build your faith by sharing what God has done for me and for the special men, women, and children I've met in my travels around the world."
May 12th, 2013 - Posted & Written by James Warwood