Billed as "one of the most memorable Easter celebrations you'll ever have", Northern Cross is a pilgrimage like no other.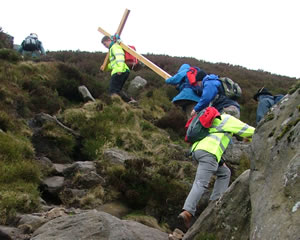 Northern Cross
Pilgrims walk the extreme route
From March 30 to April 8, more than 75 pilgrims will spend a week journeying through parts of Northumberland and the Scottish Borders, carrying seven life size wooden crosses.
Spaces are still available on the trip and organisers are promising a week of laughter, fellowship and prayer.
Each of the seven groups will stay in church and village halls along the route.
All seven groups will gather together on 6 April, Good Friday, to cross the tidal sands on the Pilgrims Crossing to the Holy Island of Lindisfarne, Northumberland for a unique celebration of Easter.
Retracing old pilgrim pathways, participants will walk by the sea side, across ploughed fields and along old railways lines. With seven legs ranging from easy to extreme, the program caters for people of all walking abilities.
Michael Hanson, Overall Coordinator of Northern Cross 2012, said: "Northern Cross is a very unique experience, a week of fellowship that can be tremendously enriching as we share a common journey of pilgrimage together. Participants come from many different backgrounds, denominations and ages, leaving the routine of normal life; to enjoy some pleasant walking, new friendships, and joyful liturgy.
"Linked by walking together, we are boosted in many ways through experiencing the beautiful countryside, meeting new people along the way – parishioners, passers-by, landowners, pub landlords, and all – and by sharing prayer, worship and song. Ultimately we all have a really good time."
He went on: "People might think of pilgrimage as a mediaeval concept, yet Christian pilgrimage is alive and well today...On pilgrimage you are removed from extra possessions, and just require whatever can be carried in a small bag. Cut down to essentials, we see ourselves stripped of most trappings of modern living. A pilgrimage is a chance to mirror life, to step back and look to see what the important things are. We can spend the time to look for meanings in life; or to work out things that trouble you, or just to reflect."
March 9th, 2012 - Posted & Written by Sam Hailes