Dickens' orphan captured the hearts and stirred of the conscience of 19th century London. Now 21st century Christian charity, Focus on the Family, hopes to do the same worldwide with its new Oliver Twist Radio Theatre dramatisation. Christian Marketplace Client Manager, Eric Siewert, recalls his first encounter with the vulnerable London orphan.
I saw a little boy – like me – shaking in his oversize clothes."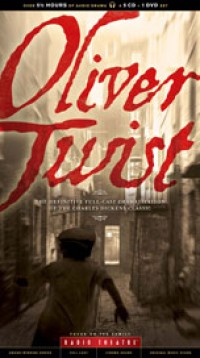 When I first met Oliver Twist, I saw a little boy - like me - shaking in his oversized clothes, tattered, torn, and various shades of grey and brown. He stood at the back of a giant dining hall filled with similar boys filling the long lines of tables and benches.
Then, a bowl cupped in both hands as if approaching his maker for mercy, Oliver walks the long walk, humbling himself, to speak the line that will play for ever, "Please, sir, I want some more." Watching the motherless Oliver struggle through life despite his kind heart, kept us entertained, and simultaneously broke our hearts for orphans.
We sat and watched little Oliver's journey from workhouse to life with Mr. Sowerberry and his wife, his escape to London and attempted rescue by the Artful Dodger. I felt relief at the seemingly happy resolution when Mr. Brownlow took him in, and utter dismay as Fagin entered the story again.
…capturing sounds, moods and the life of the little boy named Oliver."
Wind forward a few decades and see the sound equipment: boom mics and sound boards, laptops and headphones. Hopping the pond from Colorado, the crew of Radio Theatre hold a casting call and auditions, assemble an orchestra and commission an original score as they walk the streets and back alleys of London capturing sounds, moods and the life of the little boy named Oliver.
Like mine as a young boy, London's heart was broken when the book first released. Charles Dickens shifted the spotlight of 19th century London onto the back alleys and other shadowy areas of city life. Through the story, he asked the public to do something for the less fortunate, for the motherless and fatherless of their great city.
Children, even today, face the same hardships."
Now, through a new Radio Theatre audio dramatisation, Focus on the Family hopes to do the same thing for the orphans of the 21st century. Through their modern day Oliver campaign, the Christian motivated charity highlights the plight of children who, even today, face the same hardships and victimisation.
Story adaptor, Paul McCusker, led the Radio Theatre team for Focus on the Family. A theatre professional, he went back to the source material for the story. Bringing together an award winning cast; from the little boy that plays Oliver to the old curmudgeon, Mr. Brumble, the characters shed new light on orphan life in our century.
Helpless to alter his fate, we feel a sense of duty."

Readers from every generation fall in love with Oliver through Dickens' narrative. Oliver might be just another little boy trying to get by, but after the first few minutes listening, he's our boy. And while we're helpless to alter his fate, we feel a sense of duty to listen on, to find what is next and, in some small way, to act as his guardian angel until he's finally delivered into the gracious arms of Mr. Brownlow.
Featuring cinema-quality sound, award-winning writers, an original music score, and some of England's best actors. Radio Theatre's Oliver Twist Dramatisation isn't just storytelling or a book recording, it's an audio movie that plays on your imagination.
March 21st, 2013 - Posted & Written by The Editor