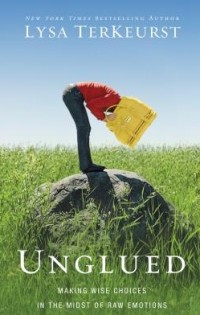 Unglued by Lysa TerKeurst
Brand new book from bestselling author Lysa TerKeurst
Humbled by the reaction to soon to be released Unglued, Lysa is full of excitement for her new book and the buzz that is building up around it.
Having just been to the International Christian Retail Show in the States, she looks back on her experiences as an unpublished newbie writer with a hope and a dream to publish her book - and look at her now, 15 books later!
Some of you may not have heard the buzz. So who is Lysa TerKeurst, and why is she so well equipped to talk about our 'sticky' emotions?
Lysa TerKeurst, New York Times Bestselling author and speaker, uses her gifts of encouragement and teaching to guide women on their walk with the Lord. Lysa is president of the Proverbs 31 Ministries who, among many other things, produce an online daily devotional with 500,000 subscribers. She spends time speaking at conferences across North America, writes a blog that is visited by 80,000 fans a month and even has time to co-host a radio programme that gets broadcast around the world.
But you'd be mistaken if you imagine a corporate, number driven speaking machine. At heart, Lysa TerKeurst is a down-to-earth mum of 5 and wife of a fast-food restaurant owner.
Yes, my mom spelled my name that way at birth. She named me after a soap opera character… and a mean one at that! …My maiden name was King which I would love to keep as my middle name; but Lysa King TerKeurst sounds a little lofty for a simple country girl."

Her family became known to the press when they made the decision to adopt two orphans from war-torn Liberia, Africa. This went on to start a chain reaction and led to other families adopting over 45 children from the same orphanage! Once the press got hold of this inspirational and heart-warming story, Lysa found herself on The Oprah Winfrey Show, USA Today newspaper and Good Morning America.
So now you know a little about Lysa and her story you can see why she is more than capable to speak on the emotional rollercoaster of life.
So what is Unglued really all about? Well, let's start with a question: Do you find yourself at the mercy of your emotions? How often do you look back on the way you reacted to a situation and hang your head in shame? But instead of repenting and moving forward, you fall straight back into the same habits time and time again.
Unglued is an honest and practical approach to using the emotions God has given you to walk with Him and develop deep and honest relationships with the ones you love.

Make wise choices in the midst of raw emotions – get emotions to work for you not against you."

Start discovering how to resolve conflict in your relationships. One of the sections in the book will help you to identify what type of reactor you are and gives wise and applicable advice on how to improve your communication which will, in turn, improve your relationships.
Unglued is a crash course to help women understand why we think the way we do, why we find ourselves getting ready to explode with frustration, anger, hurt - the whole list of emotions, and how God can help us to harness and use those emotions for His glory.

God gave us emotions to experience life, not ruin it!"

Grab a copy of Unglued. With so much experience of listening to and ministering to women of all ages and life circumstances, Lysa is well equipped to guide you on a God given path toward taming emotions that are so keen to get the better of us.
And if you're part of a women's group - and if this is an issue that has struck you or affected your group (yes sometimes it's a lot easier to face these demons together as a group, even if it's just for the solidarity in knowing you aren't the only one to despair over your rollercoaster-like emotions), you can also get a DVD study guide to go with the book. Filmed in the stunning city of Florence, Italy, let Lysa take you on a journey of discipleship as you learn and encourage one another.
March 22nd, 2013 - Posted & Written by Anna Hockley