The SPCK Bible Guide gives you an instant, colour-coded summary of every chapter of every book of the Bible, and over one hundred classic religious artworks illustrating the Bible's message and meaning from Creation to the Martyrdom of the Saints.
Designed and written for the average Bible reader who wants an overview of the Bible at their fingertips, the SPCK Bible Guide is as delightful to browse as it is helpful to read. The author, Henry Wansborough of Ampleforth Abbey, takes a middle road between meaningful amounts of detail and straight the point summary.
Colour Coded Summary with Concise Commentary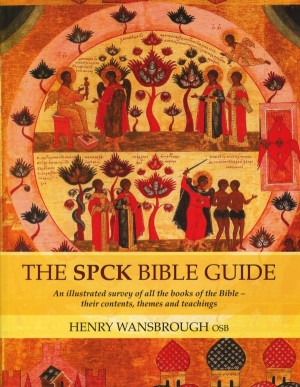 As the general editor of the New Jerusalem Bible, The Very Reverend author is well placed to identify the key themes of the Bible and locate where they appear in each book, chapter and even verse
Also Cathedral Prior of Norwich, Chairman of the Catholic Biblical Association and an Oxford university theologian, the author has compiled and colour coded 18 key themes that run through the Bible. With those themes as his focus, he's allocated no more than three principle themes to each Bible passage and summarised the passage in no more than a paragraph.
With its Old Testament, Apocrypha and New Testament sections in the same book order as the Bible, it's easy to look up a Bible reference and find it concisely summarised and colour coded for content and meaning. Where more detail is needed, an extra paragraph of 'commentary' is included with any cross reference that might add further context.
Find All The Bible's Key Themes Quickly and Easily
It is a uniquely simple, helpful and easy to follow layout. Just a quick flip through its pages shows where each coloured theme is most concentrated. For instance, there's a lot of orange (moral teaching) in the chapters of Paul's letters, a lot of pink (parables) in Luke, and a lot of dark blue (judgement) in Revelation. The Old Testament is heavy on dark brown (history), lilac (prophecy) and dove grey (wisdom literature), and The New Testament rich in purple (miracles).
The SPCK Bible Guide lets you quickly see where different themes feature in God's unfolding relationship with humankind. The theme of contract (dark green) appears as early as Genesis 9, but is absent as a dominant theme in the New Testament. Surprisingly, there is no coded colour for grace (you might want to add your own - silver maybe, or gold) though its expression as love and forgiveness, along with prayer, worship and praise each get a colour of their own.
Message and Meaning in 125 Classic works of Art
Colour is definitely the key theme of Wansborough's book. 125 full colour reproductions of classic religious artworks by 68 artists including Brueghel, Rembrandt and Caravaggio capture the Bible's message and meaning - from the Creation, through the Passion to the Martyrdom of the Saints, in a manner that even the best chosen words can rarely match.
February 22nd, 2013 - Posted & Written by Les Ellison