Christians engage with it daily. Churches encourage it weekly. Millions are constantly enriched by it. What is intercessory prayer, why do we do it and how is it best used?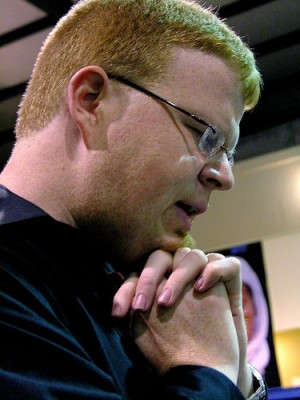 Prayer
(c) Oldshoewomen - creative commons
Intercessory prayer is a grand term. But according to Tearfund's research, half of UK adults pray, and of those, a tleast 68% engage with intercessory prayer (praying for others).
Cooperating with God
According to the Bishop of Oxford, Rev John Pritchard, intercessory prayer gives Christians the opportunity to "cooperate with God in the greatest enterprise in the world - enabling the world to live as God wants".
"I believe that God has established an economy of grace in the world whereby he needs our cooperation. So the cooperation we give by our prayers helps these things to happen. Intercessory prayer is the best way of loving people. By putting people into the hands of God and God's love, there's nothing better I could do for people."
Rev John Pritchard is clearly excited to reflect on the global and inclusive nature of prayer.
"I find it lovely to think there is someone saying The Lord's Prayer 24 hours a day every second of the hour. There is a flood of prayer going on all the time."
Intercessory prayer is the best way of loving people. By putting people into the hands of God and God's love, there's nothing better I could do for people.
The bishop says intecessory prayer is much loved by evangelicals and often comes most naturally and easily to people. But he believes all types of prayer, including prayers of confession, contemplation and thankfulness are important.
God isn't reluctant
Careful to avoid what he sees as unhelpful terminology, Rev Pritchard stops me when I talk about God intervening in situations. The reverend argues the word 'intervening' incorrectly suggests a God who has to be persuaded to be involved in the world.
"Intercessory prayer is laying hold of God's willingness, not overcoming his reluctance. We don't have to batter him down and force him to take action, he is always wanting to work for our good, but is able to do more when we add our prayers."
There was a time when the entire country took days to pray for national and international events. In 1940, 70% of the UK reguarly attended church. At the King's request, millions of Brits begged for God's mercy on 300,000 troops pinned down in Northern France during World War II. In what later became known as "the miracle at Dunkirk", Hitler inexplicably delayed his attack, allowing 900 fishing boats, yachts and other vessels to ferry the British soldiers back home to safety.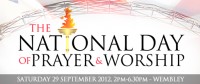 Reflecting on the past, the bishop explains the Church no longer has days of prayer, either for the entire nation or specific events like Dunkirk. "We don't want to give the impression that God is an unpleasant character who has to be persuaded to do something nice for us. We're a bit more cautious about laying on the grand event. The idea that we have to beat God down to do something like save soldiers at Dunkirk is somewhat bizarre."
Contrary to the Rev Pritchard's assertion that national days of prayers are no longer called, I point out that a National Day of Prayer And Worship is currently being organised at Wembley stadium in September. Would the bishop support such an event?
"I'd support it for those who would like to pray that way. I just have that fear that the world that looks on will think we are trying to persuade an arbitrary God to try and do something he doesn't want to do and the more we get together to pray like that the more we're going to force his hand. Obviously I want people to pray at all times and that's one way of praying and I'd be delighted to support it but I probably wouldn't go myself."
The importance of action and community
David Adam approaches the subject of intercessory prayer from a different angle. Emphasising our power in God's world, he argues that "intercession always involves action".
"It's a question of 'how many loaves have you?' In sharing what we've got, God increases it."
The seasoned author sees intercession as something that entire communities engage with. He believes this should be modeled in churches across the country.
Intercession always involves action
"Often when you have intercession during church it's one person doing all the praying and there's no space for other people to be offering their prayers. In an ideal community everybody would pray for peace and work toward it".
David uses the picture of a dam being slowly dismantled to explain how prayer can work as people join together and unite.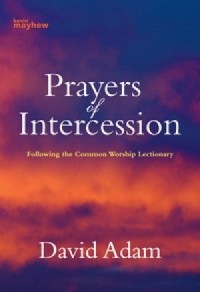 "Each person takes a brick out of the dam until the waters flow. Occasionally a miracle happens and one person takes the brick out and the waters flow. But God works through community as much as individuals."
David believes cooperation with God is vital if we are to see prayers of intercession answered.
"If we're not doing what God wants us to do, it puts up a barrier to prayer. Every prayer is saying to God 'thy will be done' and if we're not doing his will, it makes prayer weaker. God is still ready to work, but we're not working in cooperation with him."
Both authors have both written extensively on the subject of prayer. Rev John Prichard's Intercessions Handbook is a key resource for anyone seeking to lead others in prayer while David Adam's Prayers of Intercession is a collection of inspiring, uplifting and meaningful prayers that can be used in any context. For more books on prayer, click here.
August 10th, 2012 - Posted & Written by Sam Hailes