Martyn Payne, who is part of the national Barnabas and Messy Church team, explores a Christian response to Halloween.
Deciding how best to handle Halloween every year is a source of great tension for many churches and particularly for Christian parents. With a dearth of special events between the August Bank Holiday and Christmas, the shops eagerly latch onto the ghoulish paraphernalia that they can market for parties around the October half-term.
Pumpkins are suddenly everywhere, complete with their scary faces, and these, along with skeleton costumes, zombie masks and witches' hats, take over whole aisles in most supermarkets. It is assumed that every child will want to dress up for the evening and attempt to scare the living daylights out of each other! So, how are Christian parents best advised to respond to this commercial, and arguably spiritual, onslaught?
An important Christian festival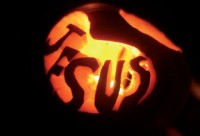 The strange thing is of course that the name Halloween has links to an important Christian festival. 'Hallow' is from an old word for 'holy' (as in 'hallowed be thy name') and 'e'en' is short for 'evening'; and so this was the evening before the holy day of All Saints on November 1st. Halloween should really be a positive build up towards remembering those Christian 'holy heroes' who have served God and his kingdom throughout history, earning the title of 'saint' for their outstanding life of prayer and faith.
However, as with many of our festivals, there are deeper pagan roots which were later 'baptised' by the church in an attempt to push back the forces of darkness. October 31st was an ancient Celtic festival marking the end of summer and on that evening the souls of the dead were meant to revisit their old homes on earth. This is where the tradition of Halloween ghosts and other more sinister forces comes from. It's no wonder then that Christian parents are nervous of letting their children go to Halloween parties however innocent these might appear to be.
And with the growing influence of America's 'trick or treat' tradition for this October evening, it has become really difficult for many of us to know how to respond wisely to the peer pressure our children are under. Is it a dangerous trick or can we somehow redeem it as a treat for our families?
Death has been defeated!
As so often with such big questions it is sometimes too easy to rush to extremes in our response. Banning things outright can often cause more problems than it solves. Having one evening a year on which some of the more uncomfortable dimensions of our lives such as the fear of death and of the unknown, are brought out into the open to be laughed at and played with in a safe way can be very healthy, particularly for children.
In our present society we are perhaps too quick to hide them from the realities of death and dying, when of course they are very aware of these things and have as many big questions to ask as us grown-ups.
As Christians we believe that death has been defeated through the cross and resurrection of Jesus. Using Halloween positively to confront these issues with faith and honest conversation seems a much better approach than trying to over-protect children by pretending these things don't exist. One of the positive outcomes of recent changes in our approach within children's ministry has been the realisation that we need to explore all aspects of our faith openly with children, listening carefully to their questions and answers as we accompany them on a spiritual journey of discovery, learning from and with them as we read Bible stories together.
Increasingly, those writing resources for Halloween have built on this more positive approach to the festival. The focus has been on the light of God's truth shining even more brightly against the backcloth of the darkness as represented by the traditional props and costumes of Halloween. Many churches run 'light parties' at this time of year, celebrating the light that shines in the darkness and which the darkness cannot overcome. Another approach has been to focus on the light of God's love shining through his saints throughout history, thus anticipating the celebration of All Saints Day.
A similar, more contemporary take has been to draw on the rich tapestry of comic book and computer game superheroes, who populate children's imaginative worlds. I recently helped lead just such a Halloween alternative that encouraged the children to come dressed as Iron Man, Wonder Woman and their like! These heroes also fight against evil and darkness, often through acts of self-sacrifice; and this of course gives us a natural connection to the ultimate battle between good and evil as experienced by Christ at Easter.
Alternatives to Halloween
Just as Christians in the past sought to baptise the local traditions with the truths of the Gospel, so we too have the opportunity not to run away from Halloween, putting it in a box marked 'do not touch', but rather to work with it and use it to point children towards faith in Jesus.
Many Christian publishers produce 'alternatives to Halloween' and there are great ideas in these. However the best of them I believe are those which don't pretend that Halloween doesn't exist, offering instead a completely new activity to fi ll the gap. The truth is, children enjoy being a little scared and testing the boundaries of their fear; this is vital for them as they grow up and explore their way through life which we know is rarely just black and white but a wide spectrum of grey.
It is important for us and for them to be able to test out and thereby discern what is right and wrong, what is truly dangerous or merely harmless fun. We don't do our children any service if we hide them from opportunities to encounter such challenges. But of course we do need to accompany them so that they are still safe, watching over them as our heavenly Father does us on our journey of faith.
Alternatives to Halloween then can indeed build on some of the elements of this so called scary festival night, allowing children to play with the ideas of good and evil in a safe way. It can be an opportunity for them to be guided towards our God in whom there is no darkness at all and for whom, interestingly, even the darkness is as the light!
Within our own Messy Church work of the Bible Reading Fellowship (BRF) we have found it important when working with those who do not normally come to church to share the gospel on 'familiar territory', as it were. This might mean creating a Messy Church session around a recent, popular film such as Frozen or Frozen 2, but also using festivals such as Halloween.
Working with Halloween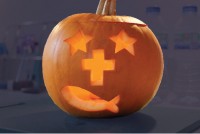 In a recent addition of Get Messy - the Messy Church magazine with resources written by Messy Church leaders around the UK - the Halloween session was entitled 'Things that go bump in the night'. It used as its starting place our many human fears, particularly of the dark, as a way to explore God's love which casts out all fear. In the same way there are other Messy Church session outlines linked to Halloween in Messy Church Book 1 (I am the light of the world) and Messy Church Book 3 (Light up the darkness).
Many Christian websites carry a range of possible alternative ways of working with Halloween rather than totally demonising it. There is a list of further helpful resources and books for practitioners at the end of this article.
There's no getting away from the fact that the traditional characters that populate a Halloween evening are more popular than ever. The Twilight series of books and films, the many TV series about vampires or werewolves, as well a range of other cartoons and bestsellers mean that children are easily drawn into the traditions and events of Halloween.
For most children however Halloween is just an excuse for having fun, possibly getting sweets or money from neighbours and enjoying scaring each other in a safely controlled environment. They are rarely making a conscious link with the idea of true evil. It is often the adults who are more uneasy about the celebration and tend to
give it a significance that is not actually there in the children's minds.
The onus is on us however as adults to disentangle tradition, fun, risk and commercialisation from the reality of things like the occult, asking for wisdom to decide where to draw the line.
Halloween can provide an opportunity to test out things that are risky or nasty in a safe environment. Most children have a fascination for the supernatural but by banning these things completely we are in danger of removing something important in our own supernatural faith. Faith in Jesus is not something cosy and out of this world but rather helps us to confront and live with the dangers, mess and fears of this life. Children see plenty of this on the news and can't be shielded from the dark side, so let us use Halloween as a festival to let them know that God is with us in Jesus not only in the good times we enjoy together but also in the valley of the shadow of death.

September 29th, 2015 - Posted & Written by Together Magazine