There's a new Teen Bible on the block – the LIVE Bible.
We think it's a Bible locked on to a specific target audience – the facebook-obsessed, text-a-holic, smart phone-wielding, internet-savvy, social media-hungry young people slumped at the back of our churches ... and here's why.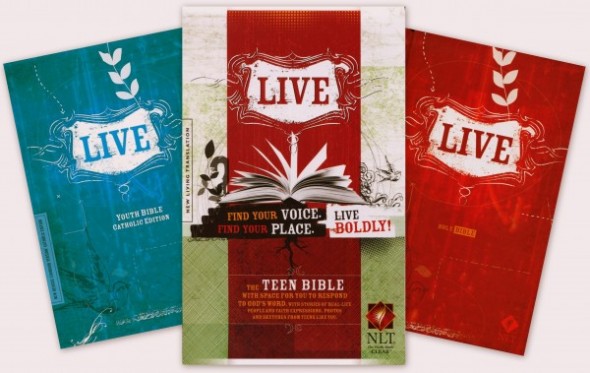 LIVE Bibles available at Eden.co.uk
NRSV LIVE Bible (Catholic Edition), NLT LIVE Bible Paperback, NLT LIVE Hardback
Teenagers these days pretty much live on Facebook.
The LIVE Bible (available in the NLT or in a Catholic Edition with the NRSV) has created a Bible for them – everything inside invites creative interaction. Let me explain:
Express Yourself
Most Bibles plough through Gods' Word without any breathing space. Inside the NLT LIVE Bible are hundreds of gaps, cornered off blank areas which encourage young people to stop, reflect and express their feelings. Many Bibles only encourage young people to read, this Bible encourages young people to take that important extra step.
"This Bible is a two-way communication street ... God desperately wants to get a reply. He wants to hear from you. He wants you to communicate, to give him some feedback." – taken from the Introduction.
In the sections entitled 'Express Yourself', readers will find challenges to express their feelings through writing on the page – that's right, to actually engage with God. These creative spaces are for doodling, journaling, gluing in pictures, song lyrics or writing poems.
Real Questions
An important part of the Christian walk is asking those big questions, especially when you're a teenager – can I believe in both God and science? Why is there pain and suffering in the world? What about hell?
Often we adults get into a bad habit of spoon-feeding teenager's knowledge, but with these big questions they can't rely on simply regurgitating our answers, they need to wrestle with the issues, reflect on them and seek God's wisdom. And where are they going to find that? In the NLT LIVE Bible there are 16 conversation starters on big questions called 'Real Questions', which include provoking questions and helpful Bible verses to help teenagers search for the answers themselves.
LIVE Community – Rough Edit
Iron sharpens iron, and teenagers need like-minded Christians to sharpen their faith.
"When it comes to faith, we're all seeking and growing and struggling and changing. We're what some in the book business would call a 'rough edit' ... one of the keys to growing in faith is being part of a community." – taken from the Introduction.
Rough Edit is a creative, online space where teenagers can upload what they've been doing with the NLT LIVE Bible. Whether it's poetry, testimonies, photos, graph designs or videos; teenagers can showcase their work, browse through other peoples work, chat with other Christians about important issues and make tons of friends.
Also throughout the Bible are examples from real teenagers work to encourage and inspire. Over 300 original photos, poems and quotes by teenagers are interspersed in the text and displayed on glossy pages which look fantastic.
Other Features: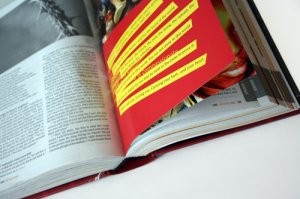 · 'Try This': practical advice and examples to practise your faith
· 'Just Like You': true stories of men and women from different countries and different times who chose to live vibrantly for Jesus
· 'Text Messages': interesting facts and quotes so no page is boring
· 'Where Do I Turn Section': for when teenagers pick up the Bible looking for help on a specific topic which directs them to several verses
· 'One Chapter Per Day Bible Reading Plan': realistic reading plan for teenagers
· 'Extensive NLT Dictionary/Concordance': 63 pages which give the word, the words meaning and several verses where the word is found
Available Formats
The NLT edition of the LIVE Bible is available in paperback and a hardback edition. Also available is a Catholic Edition, containing the same engaging content but with the NRSV text and additional content (profiles on the Catholic Saints).
I am hugely impressed with the LIVE Bible. It's not a Study Bible, a Devotional Bible or an adults Bible sprinkled in eye-catching features. It's an invitation to creatively engage with the Bible – to develop genuine faith – to collide with Christ. As their slogan says:
"This isn't your Mum and Dad's Bible. Write in it. Draw in it. Create in it … Live in it. Express yourself as you discover God." – LIVE Bible slogan.
November 22nd, 2012 - Posted & Written by James Warwood