God's Not Dead 3: A Light in Darkness (aka God's Not Dead 3) is the third gripping film in the Pure Flix series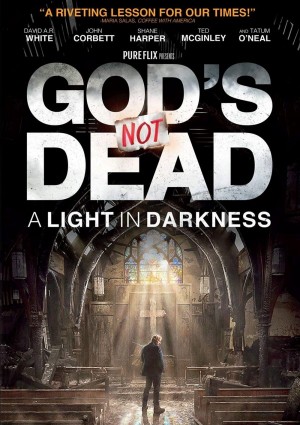 After a deadly fire rips through St. James Church, the film follows Pastor Dave as the adjoining Hadleigh University uses the tragedy to kick the congregation off campus. The escalating controversy creates a dilemma for the small church. Facing a court case and his own struggle to see Christ's light in heartbreak, Dave asks for help from Pearce, his estranged brother, a lawyer and an atheist, to fight for the church's right to exist.

This film is a slight but welcome departure from the previous films, the previous two focused on apologetics topics including evolution vs creation and evidence that Jesus was a real person. This third film takes a turn and the storyline pulls it right into today and tackles the questions and issues that Christians are facing at the moment such as can Christians fight for their rights and be the light for Christ at the same time? Where is God when bad things happen? Is God really good all the time? and can Christ really heal the brokenhearted?

We have the continuity of Pastor Dave (David A.R. White, this film is one of his best performances) and Reverend Jude (Benjamin Onyango) from the previous two films, and see a return of Josh (Shane Harper) from the first movie. We also see John Corbett join the film as Pastor Dave's atheist brother Pearce. The cast are really on top form and help carry the story, bringing their characters to life and making them believable.

Believability is what makes this film, with the gripping and surprising storyline and the great cast bringing this through, yes bad things happen to good people, even Christians, yes Christians get angry and sometimes forget to shine their light, yes this is real life and yes we need to address these issues. This film does a great job in tackling these issues and show that when we shine our light, when we show love, lives can be changed.

The storyline is gripping and dramatic, alongside fantastic cinematography and a strong cast, packing a much needed message, makes this one of the best films in the God's Not Dead series.

Overall God's Not Dead 3: A Light in Darkness is an inspirational and encouraging film that reminds us all to be the light we are called to be in a world that is getting considerably darker. Let us shine Jesus in all circumstances, let us show forgiveness and love even if it may seem difficult. This is a much needed message that can being hope to this world.
God's Not Dead 3: A Light in Darkness is due for release on January 21st 2019 and is available for pre-order today.
This post originally appeared on The Christian Film Review - used with permission.
January 2nd, 2019 - Posted & Written by The Editor