You'd expect Billy Graham's son, Franklin, to be passionate about the gospel. In fact, you get the impression that nothing will stop Franklin Graham from preaching the gospel, and when he ends our interview by quoting Paul's words: "I'm not ashamed of the gospel…" you know he means it.
Operation Christmas Child
I met Franklin Graham was on one of his rare visits to the UK to raise awareness about Operation Christmas Child (OCC) – a project that will see 8 million children in extreme poverty receive a shoebox full of presents over the Christmas period.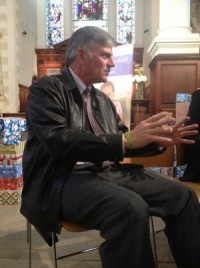 Franklin Graham speaks about OCC
Distributing 8 million boxes is a tough task. Franklin explains that each box has to be organised by gender and then further sorted according to age group. But each box often impacts on and blesses an entire family.
Prayer: The key to success
Franklin believes the key to the success of OCC is prayer. He even goes as far to say he'd rather 100 boxes with prayer behind them than 10000 boxes with no prayer.
"This year we'll give out 8 million shoeboxes," he says, "but I would hope in the next 10 years we'd have 8 million children in discipleship training."
Lives transformed
Franklin has seen first hand the fruit of the charity's efforts. Two years ago, Franklin was speaking at a large church in Albuquerque. In between services, the pastor introduced a young girl to the preacher: "This girl came and was kind of shaky and was nervous speaking to me."
The girl had been a Bosnian refugee at a camp in Croatia when she received an OCC box. In it there was a doll that she still has today. Franklin recalls that she told him: "I've now immigrated to the United States. I'm living here and going to the University of New Mexico and I have a job at Walmart. I've packed my box. Will you give it to a child like I was a few years ago?" So Franklin took the box and gave it out that year.
Responding to critics
"I've had some sceptical reporters from time to time," Franklin says, smiling. "They'll try to intimidate you sometimes and say: 'You mean to tell me that I'm using these gifts to proselytise?' I say: 'We want to make Christ known. I want every child to get a box and know that God gave his son to for our sins. He can come into the hearts of all of these children.' They look at you in disbelief. Then I'll say: 'You do know it is Christmas?"
"I don't apologise for sharing Christ. This is who we are and what we do."
The Sower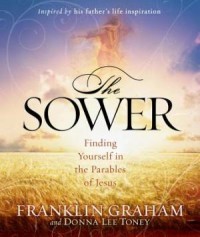 Finding Yourself in Jesus' Parables
When I ask about Franklin's new book, he looks thoughtful: "Which one is that?" We laugh as he apologises; he's been so busy with OCC and hasn't spent much time talking about his books. I jog his memory: "It's called The Sower." Franklin responds:
"It's written as a devotional and an easy way to read and understand a parable that is of profound importance. We don't know – as we go through life and take God's word and share it – sometimes his word falls on shallow ground. Our job is to be faithful and not to be discouraged.
"As evangelicals we need to be more outspoken today than we've ever been about our faith. Paul said: 'I'm not ashamed of the gospel for it is the power of God unto salvation."
It's obvious that Franklin isn't just the son of a preacher man. He's a preacher himself, and a convincing and passionate one at that. - Sam Hailes
November 8th, 2012 - Posted & Written by Sam Hailes