Every major crisis is known by a single image that encapsulates the event's human element.
Think of the lone man in Tienanmen Square, shopping bags in hand, standing up to a line of armoured tanks; the still-unknown falling man from the September 11 attacks, whose near-serene pose shocked a nation; or the Jewish boy surrendering in Warsaw 1943, whose innocence in contrast with the violence that surrounded him broke countless hearts.
This is the story behind such an iconic image, and the life that came after it.
The Napalm Girl.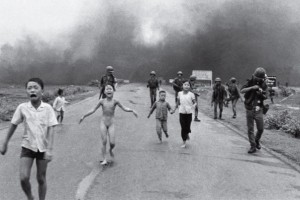 Taken in 1972, and titled The Terror of War, photographer Nick Ut's harrowing image came to represent the human cost of the Vietnam war. Few images prior to this has ever shown the collateral damage of a war, fewer still from the effect of an American strike. Taken 25 miles northwest of Vietnam's capital city of Saigon, it shows children running towards the camera, their faces distorted by pain. At their centre, a girl completely naked, and crying in agony. Ut, at first, hadn't realised why one of the children running towards him had no clothes. It then dawned on him that the had all burned off because of the napalm that had rained from above. He immediately took her to the hospital, where doctors said she would not survive the third-degree burns on her body.
This is usually where the girl's story ends. Discussion of the image then focused increasingly on the morality of the image, and whether news mediums could show an image with nudity. Censorship stole the narrative, but the photgraph has lasted on, becoming shorthand for the whole conflict. Nick Ut went to win the Pulitzer prize for his image.
But what about Kim Phuc Phan Thi, the girl at the forefront of the image?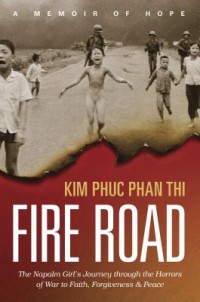 Fire Road is her story, the story behind the photo, and her recovery from disfiguring burns. Where most stories that surround photographs of pivotal moments do not inspire courage or faith, Fire Road takes the reader on a journey from horror to hope. Kim Phuc Phan Thi's story of recovery and finding faith is one of huge overcoming. It shows that God can elicit peace in any situation, and that a single moment of tragedy does not have to define a person.
The remarkable story you never knew, Fire Road is a look beyond the lens, and will encourage you to search for the story behind other iconic moments in photographic history.
Fire Road by Kim Phuc Phan Thi is due for release on the 3rd October, and can be pre-ordered today.
September 6th, 2017 - Posted & Written by Aaron Lewendon