Looking for an accessible way into the Bible? Perhaps a gift for someone on the fringes of faith or maybe just a gripping read for the holidays then why not take a look at the best of the best in Biblical Fiction.
Packed full of stories of love, faithfulness, dishonour, broken relationships, battles and hope – the Bible has everything you need for a page-turning novel. Without doubt Biblical Fiction is the most popular genre of Christian fiction and it's easy to see why with plot twists and a Christ-centred core, stories based in and around the Bible are a winning formula. So with that in mind we've pulled out our Top Ten Biblical Fiction books to wet your appetite.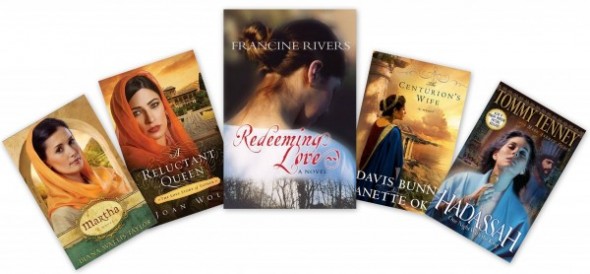 No# 1 Redeeming Love – Francine Rivers is a house-hold name when it comes to Biblical Fiction the author of over 20 novels, this bestselling title is a fictional re-telling of the story of Hosea. Redeeming Love tells the story of one man's faithful obedience to God when he is faced with the difficult command of marrying Angel, a picture of God's faithfulness to his often unfaithful people. Emotional and at times heart-breaking you'll be swept up into the story as you follow the characters and get to understand the book of Hosea. Check out our Francine Rivers Department to see all of her books.

No# 2 A Reluctant Queen – Joan Wolf's re-telling of the story of Queen Esther will keep you on your toes as you watch the relationship of Esther and King Xerxes play out – a love story full of political tension and intrigue.

No# 3 Martha – Often overshadowed by her sister Mary, Martha has an important story to tell. Often tarred with a negative brush, Martha's misunderstood character is fleshed out in this fictional account of Martha's relationships, loves lost and found and her servant-hearted nature. Well researched and beautifully written this story will open your eyes to a Martha never seen before.

No# 4 The Centurion's Wife transports you back to just after Jesus' crucifixion. Whilst Pontius Pilate and his wife Procula dwell on their actions his young niece, Leah and her companion Alban start searching for answers about the mysterious man on the cross, which turns their world upside down. The Christian fiction tag-team Davis Bunn and Janette Oke regularly write together and have many bestsellers in this genre.

No# 5 Hadassah Open your eyes to the story of Esther in this thrilling, edge-of-your-seat novel. Author Tommy Tenney spent time going deep into the book of Esther and spent time in Iraq and Iran making this account feel like you've just stepped straight into 3rd Century BC!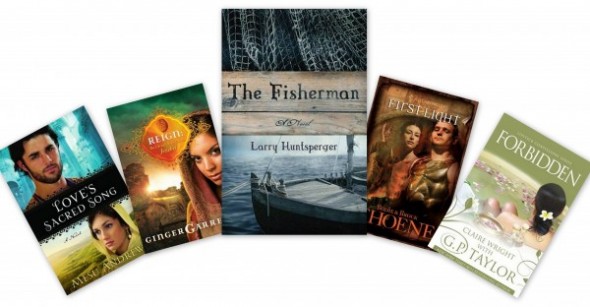 No# 6 Larry Huntsperger's The Fisherman brings the Gospels to life with a fictional account of Jesus' life told through the eyes of fisherman, Simon Peter. From fisher to follower Simon Peter's perspective will take you on a gritty spiritual journey that you'll find difficult to forget.

No# 7 Love's Sacred Song plays out the touching story of Solomon and the woman who stole his heart from humble beginnings. If you're looking for a love story with historical and biblical foundations then look no further. Mesu Andrews has written several Biblical Fiction novels that cover some of the lesser known characters of the Bible, take at look at the Mesu Andrews Department.

No# 8 First Light first in the AD Chronicles series by esteemed novelists Bodie and Brock Thoene this award-winning story takes the reader back to first-century Jerusalem, a turbulent dark and testing time as two ill-fated lovers Susannah and Manaen's relationship is put to the ultimate test. In a world where their love is forbidden will the two make it through…got your attention then be sure to grab a copy of the book!

No# 9 Fancy reading something a little more contemporary Forbidden, G. P Taylor's modern retelling of the story of David and Bathsheba ticks the boxes and yes you guessed it, it does get messy, people get hurt but ultimately God is faithful to the characters as they encounter a God who can forgive and heal. A great alternative to a throw-away chic lit novel, Forbidden has substance and the potential for a happy ending...but you'll have to read it to find out!

No# 10 Reign tells the story of one of the Bible's most notorious women Jezebel. Mixing romance, intrigue and power struggles author Ginger Garrett has researched her character well and writes with insight as well as flair. Though a fictional account, Reign fills in the blanks with cultural detail and romantic twists.

So there you have it our run down of Top Ten Biblical Fiction novels, each tells a unique story from a humble shepherdess to a brave king, relationships that changed the face of history and stories that'll have you desperately turning the pages for more, why not take a look at our Biblical Fiction Department for even more tales from Bible times.


June 24th, 2013 - Posted & Written by Anna Hockley