With its word-for-word translation and direct King James heritage, is the English Standard Version (ESV) the best pew and personal Bible for English speaking churches? Rising popularity and a wide range of editions suggests it's worth considering for both.
English text Matched to the Greek and Hebrew
The ESV was born out of discontent with newer 'thought for thought' Bible translations, such as the New International Version (NIV) and paraphrases like the Message, both considered too inaccurate for serious study.
Starting with the 1971 Revised Standard Version (RSV) – with its direct KJV heritage, a team of translators under theologian J I Packer matched the text against the original Hebrew and Greek, making corrections for accuracy only.
Every translation is a balance of accuracy and meaningful readability. The 2001 ESV shifted the balance back toward word-for-word precision, retaining about 95% of the original RSV. Amended slightly in 2007, the latest edition is the 2011 release.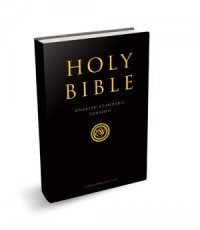 Words and Phrases Direct from the KJV
Along with the 66 books, some editions include the Apocrypha. In all editions, rhythms of speech – and even whole phrases, are direct from the King James Bible, but with 'thees', 'thous' and 'speakeths' given their current language forms.
This means that well known passages from the Psalms, Jesus' teachings and 1 Corinthians 13 restore the poetic language and sense of connection with the heritage of the English Church and English Bible.
On the other hand, the more complicated and less familiar Old Testament passages aren't as readable or conversation as they might be in The New Living Translation (NLT), NIV and Message versions.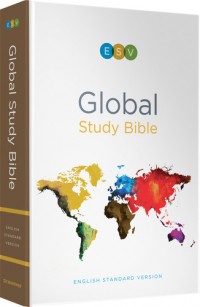 Well Resourced for Pew and Personal Study
For churches, schools and fellowships looking for accuracy, clarity, poetry and that sense of connection with the English church heritage, the ESV is well worth considering when worn Bibles come up for renewal.
Affordable and durable, the newly Anglicised ESVs - with English grammar, spelling and punctuation, is readable in private, in church and easy to make meaningful when read aloud in public.
For personal reading and study, the ESV's creators provide excellent resources and support in the student editions, children's editions and life application study Bibles.
Large Print, Daily Reading, Audio, Luxury/Fine Binding and Paperback editions make for practical, affordable and well received gifts – and of those you care about, connected to Sunday worship.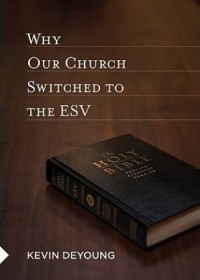 See the ESV for Yourself and Find Out More
For an inexpensive introduction to what the ESV can offer you and you church, school or other fellowship click on this link and add the ESV Economy Paperback Bible to your basket ready for your next Eden order.
And for one man's experience of re-equipping his church with the ESV, add a copy of Kevin DeYoung's booklet, 'Why Our Church Switched to The ESV'
But whether you're choosing for yourself, for an other or helping make the decision on behalf of your church, here's a selection of the top three ESV Bibles of the moment.
ESV Bibles for Gifts, Church and Personal Use
ESV Anglicised Compact Gift Edition – Soft feel covers that zip up to protect pages and hold in all those bits of paper. The print is only 6 point font – what you'd expect in a compact Bible, but has handsome gilt edge pages and comes in Mature Chestnut or Rich Purple.

ESV Anglicised Gift and Award Bible – Affordable paperbacks in Black, Pink or Blue presented individually and in Packs of 24 - also in handsome, prestigious Imitation Leather, help you introduce the accuracy and readability of the ESV to young readers, and honour the achievement and service of all ages within your faith community.
ESV Thinline Bibles in Imitation Leather – Not all Anglicised - so check the product page, but handsomely bound in a range of soft, leather-feel covers from Fuchsia Pink to Midnight. Slim, light and easier to carry than a pew Bible of similar print size, and at around an 8 point font they're easier to read than most Pocket and Compact ESV Bibles.
April 5th, 2013 - Posted & Written by Les Ellison