Whether you're ready to admit it or not, for many Christmas gift buying is well underway. If you're anything like my mum you stocked up in the January sales and they're all waiting, in the spare bedroom ready to be wrapped. For others, like a certain colleague of mine, Christmas shopping doesn't begin until at least mid December.
Christmas is still 12 weeks away, so you'd be forgiven for thinking it doesn't need to be talked about just yet. But for those who like to get ahead, here's a preview of what's to come at Eden this Christmas.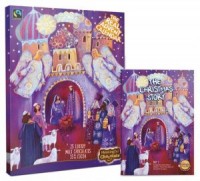 For Advent: The Real Advent Calendar
Back again with a regal purple design, The Real Advent Calendar is a fun way for parents, grandparents and Godparents to share the Christmas story. The 2017 design calendar comes with a free 24-page Christmas story activity book designed to be used every day in Advent.
Each chocolate is fairtrade and inside each window is a line from the Christmas story, this Advent calendar serves as a reminder each and every day of the true meaning of Christmas.
Also available in larger packs for Churches and schools.
Looking for something more for Advent? Take a read of our Advent studies guide.

For the table: Meaningful Chocolate Christmas Crackers
6 fabulously festive fair trade crackers for Christmas lunch. Each cracker contains a packet of tasty, fairtrade chocolate buttons, a gunpowder free snap, a crown, a joke sheet and a Christmas story fact book.
These are the UK's first Fairtrade certificated crackers and will look magnificent on the table.

For laughs: Hark! By Paul Kerensa
With endorsements from Miranda Hart and radio's Chris Evans, I am in good company when I declare, Paul Kerensa is very funny. You can take our word for it, or you can pick up a copy of Hark! A riotous sleigh ride through the history of Christmas.
Paul answers festive trivia from Roman revelry to singing Bing, via Santa, Scrooge and a snoozing saviour, this timeless tale is perfect fodder for the Christmas dinner table.

For a bit of festive escapism: An Amish Christmas
Personally, I believe Christmas is not the time for heavy reads, that leave you frowning at the pages in confusion.
Instead, Amish fiction provides light escapism as you are transported to the simple, romantic lives of four Amish families.
An Amish Christmas, is a four novella collection from the best of Amish fiction writers, including Beth Wiseman and Kathleen Fuller, each beautifully exploring Lancaster County in snowy December.

For musical entertainment: The Peace Project - Hillsong Christmas Music
Is it true the old songs are the best? Much loved Australian worship band, Hillsong are banking that you'll like some of their new, festive offerings just as much!
Their Peace Project CD includes new songs alongside classic carols (Silent Night, O Holy Night, Joy the World) in an effort to bring small moments of peace amongst the chaotic backdrop of the festive season.

For keeping kids entertained: The Story of Christmas
Books make wonderful gifts. This simple, colourful book brings the Nativity to life with rhyming words and bright pictures, especially for ages 3-5 years. A story that is sure to be requested long after the last decoration has been taken down.
This economic, paperback edition is exclusive to Eden.
You can find other Christmas books, resources, music and more in our Christmas shop.
What are you looking forward to this Christmas? Tweet us with the hashtag #ChristmasAtEden.
September 29th, 2017 - Posted & Written by Laura White