Devotional Bibles are like reading your Bible with a good friend who knows who you are, what you love, how you read your Bible, and what you need to get you through the day.
What is a Devotional Bible?
Daily devotionals give you selected 'snapshot stills' from the Bible. Devotional Bibles give you the whole Bible's 'big moving picture' - but frame by frame, and add short devotional thoughts to help you remember, understand and apply it's meaning to your life.
Choosing a Devotional Bible for Yourself
Your Devotional Bible should be like reading the Bible with a good friend who gives you a little help along the way. So choose one that'll make a good friend; one whose company you'll look forward to enjoying as you open and share the Bible together.
Devotionals that Speak Your Language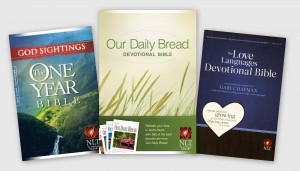 Devotional Bibles at Eden.co.uk
NLT God Sightings One Year Bible, NLT Daily Bread Bible, NLT Love Languages Devotional Bible
If you love reading the Bible in the poetry and familiar verses of King James Version, or the slightly modernised New King James, choose a Devotional Bible based in one of those translations. Devotional Bibles based on these more traditional translations often use poetry and meditations from the classics of Christian literature.
Modern English devotionals make practical and welcome gifts for younger readers and an encouraging introduction to new Bible readers. God Sightings One Year and Our Daily Bread are two editions that use the New Living Translation Bible. Garry Chapman's Love Languages Devotional Bible also uses the NLT for its Bible base.
Devotionals that Love what You Love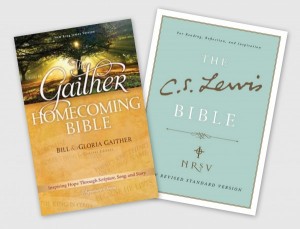 Devotional Bibles at Eden.co.uk
NKJV Gaither Homecoming Bible, NRSV C.S. Lewis Bible
If you've got a favourite Christian classic, such as the works of C S Lewis, look for the C S Lewis NRSV Devotional Bible that draws on his words and wisdom. When you're looking to buy a gift for someone you love, Devotional Bibles will give delight through the works of a favourite book or writer.
Followers of Gaither Homecoming gospel music will find the Gaither NKJV Devotional Bible is also one of the most beautiful ever created. The New King James edition includes poetry, testimonies and reflections from Gaither singers and musicians and giants of faith past and present.
Devotionals that Know Who You Are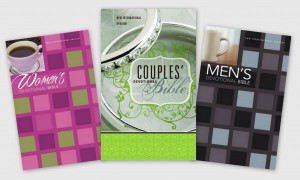 Devotional Bibles at Eden.co.uk
NIV Womens Devotional Bible, NIV Couples Devotional Bible, NIV Mens Devotional Bible
Just as a good friend always says something that's helpful to you as an individual, there are Devotional Bibles designed and written specifically for whom you are, where you are on life's journey, and how you read the Bible.

Separate NIV Devotional Bibles - for men and for women, give you the latest edition NIV and tailored daily reflections. If you read the Bible together as a couple, the NIV Devotional Bible for Couples - with 'let's talk', 'how are we doing' and 'make a date' devotions, might be perfect for you, or make an encouraging gift for another couple.
…And Don't Forget the Children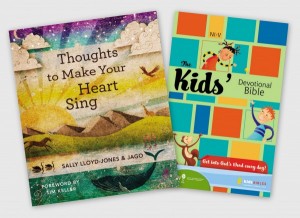 Kids Devotional Bibles at Eden.co.uk
Thoughts To Make Your Heart Sing, NIrV Kids Devotional Bible
A colourful, Devotional Bible is the best way to introduce children to everyday Bible reading. For ages 4-8, I don't think there's a more beautiful Bible story devotional than Thoughts to Make your Heart Sing. Ideal for bedtime – and for just browsing through for yourself, once they're asleep!
For 7-9s I'd recommend The NIrV Kid's Devotional Bible. This bright colourful hardback has the NIrV text printed in blue with short half page devotional readings and thoughts throughout. Each has its own tick box to help children keep check of their progress.
Revitalise your own devotional reading and encourage another into a new friendship with the Bible. Click on any of the links and choose your ideal Devotional Bible. - Les Ellison
January 11th, 2013 - Posted & Written by Les Ellison