The Church of England's governing body General Synod last night voted against women becoming bishops.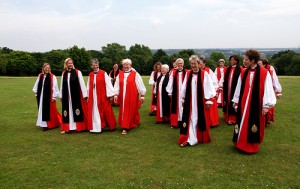 Women Bishops
Creative Commons - (c) Scott Gunn
Despite an overall majority, the motion was not passed as the House of Laity voted against the proposal. Had just six more members of the laity voted in favour, the motion would have passed.
Key figures in the Church including both the outgoing and incoming Archbishops of Canterbury, Rowan Williams and Justin Welby had voiced support for women bishops.
Traditionalists had argued that because of Jesus decision to not choose female disciples and Paul's instruction in the New Testament, the Church should not put women in a position of leadership.
Those in favour of women bishops also used scriptures to back up their points of view.
A social media campaign initiated by anonymous blogger @thechurchmouse titled Yes2WomenBishops tweeted in the run up to the vote: "The Bible has many examples of women in leadership - the church mustn't be the last to accept this! #whyYES"
The vote has led many in the secular press to attack the Church for being out of date and sexist.
Supporter of the campaign to appoint women bishops, Dr John Sentamu today commented: "This morning, people have been saying, 'The church has committed suicide, the church is dead.' Well, dead people don't converse. We've been conversing - we've not committed suicide at all."
Evangelical Anglican group Reform, which has campaigned for a 'no' vote released a statement saying: "We thank God that the Church of England has avoided making a big mistake which would have led to real division and a less inclusive Church. The synod's decision shows respect for the issues of conscience involved. It has avoided putting significant minorities who, as faithful Anglicans, seek to follow the Bible's teaching, into an impossible position."
The reaction on Twitter appears to have been near-unanimous disappointment with the vote.
Andrew Alden from Weston-super-Mare (@AndAlden) said: "Painful day for the CofE and nation."
Others such as @fragmentz used the opportunity to encourage women in the church: "To the amazing woman ministers and leaders: you are beautifully inspiring, fab, strong and gifted. God is proud of you. Very proud. #synod"
The Church of England ordained women priests for the first time in 1994.
The long-running campaign to allow women to become bishops is expected to continue as bishops hold an emergency meeting at Synod today.
November 21st, 2012 - Posted & Written by Sam Hailes