Green Pastures sounds too good to be true.
The charity houses 400 homeless people through a network of 29 partners. It buys property, houses those who have no home and provides pastoral care.
The charity predicts that by 2015, they will be housing 1000 people.
On top of this, Green Pastures allows the public to invest in their work for a 5% return.
The story began when Pastor Pete moved to Southport. "We came here about 16 years ago to take over a small Assemblies of God church that had dwindled down to 8 spinsters, the youngest of which was 76 and the rest of them were all oxygenarians."
"I had been working in another larger church and seen it grow from 30 to about 250. We were used to working with marginalized and difficult people. Arriving here, as we began to grow we launched into doing a night shelter, caring for people. We'd have people who were on the streets sleep in the cellar of the church."
"One day the local authority came round and said 'did you know it's illegal to do this?' We got on well with the chief executive. He said, 'we ought to do something for the homeless of the town. We're going to put in for a grant for urban regeneration.'"
"They got a £9 million grant of which £900,000 was earmarked to help with homelessness. We rubbed our hands and said 'thank you Lord!'"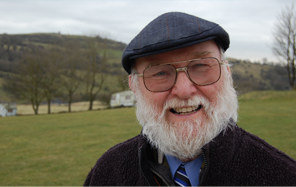 "We went to the chief exec and asked if he'd like our help. He didn't mean it in the way I've now taken it; 'leave it to the professionals, we know how to spend money'. [Laughs] They did a good job and spent a chunk on it on renovating local flats with the Housing Association. But none of it got spent on the people sleeping rough! We think the application that was made was for rough sleepers, not working with the Housing Association.
Pete was understandably upset at the situation. He admits he can be "quite rebellious against the Almighty". After telling God he hadn't done a very good job, Pete read Luke chapter 10 at a church prayer meeting.
"We came to the end of the passage and it said the Samaritan who looked after the man gave two weeks money to the hotel and said, 'by the way if I owe you anymore, when I come back I'll pay you'. It was as though the Lord said, this man who is your model, took total responsibility for this other man who he didn't know. It was really quite challenging.
"You look at what you've got in your pocket – I was 67 with a small pension. One of our ladys [in the church] had some property which she mortgaged. We found this house which had sunk into the sand. We bought it for £24,000, it had two flats in it and that's how we kicked off.
From there, Pastor Pete and his growing team started to house the homeless. Rent and running costs were paid for by Local Housing Allowance. The charity began to attract media attention from outside the area. The Times wrote a three page article on the work titled "God's Landlord". But looking back at the initial investment in property, Pete admits it was a "very hairy moment".
"You look back and laugh now, but at the time you think: 'God you don't realise, these people will break windows or kick the doors in, it's not a good investment in property', but it's been a good investment in lives because hundreds have been effected by what we do."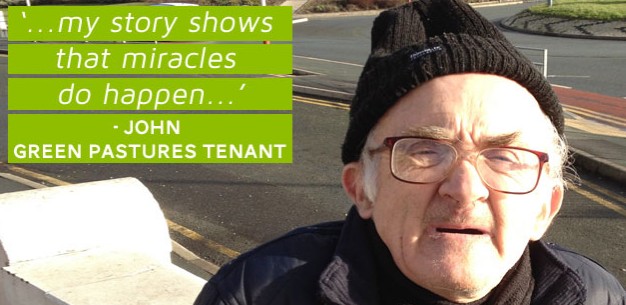 Green Pastures are inviting 1000 people to give £1 a week to support their ongoing work. And for those wanting to invest in Green Pastures, Pastor Pete's says they can offer an impressive return.
"We pay better than any bank. People are saying we won't see a lift in interest rates for another four years. We'll be ahead of the pack all that time. People may not be able to go out there and help homeless people, but they can help house them because they have money that is sitting in a bank. The bank has robbed the poor, they've stolen all our money. Now we've got an opportunity to put the money into a kingdom project that's going to change our nation."
One of the most impressive aspects of Green Pastures are the numbers of other charities and organisations they work with.
"The ethos that is in us of being one church means we're working with a variety of groups in different denominations. I've begun to think about how God calls us a holy nation and royal priesthood. Originally when he called Israel he called them as a nation but they were 12 tribes. All very different but they acted functioned as one nation. Let's be different tribes but one nation."
Pete admits his thinking is "very simple", but perhaps his quiet determination is all it takes to see real change happen? Green Pastures have achieved so much already but Pete is not content with looking back. He's a visionary.
"If we can do this over the next 5 to 10 years, my dream is if we're in 200 or 300 towns, the church being one nation, becomes relevant as we change society and fulfill what the scripture says."
This isn't mere rhetoric. Pastor Pete and his team have already seen change happen. They know the project works. The vision now rests in seeing their vital work extended. Green Pastures have existed for over a decade, but this could just be the beginning.
February 28th, 2012 - Posted & Written by Sam Hailes