Hundreds of public votes have now been counted and the results locked away until the Christian Book Awards Ceremony on Wednesday 9th May at the Christian Resources Exhibition when the winners of both adult and children's category of the 'Ultimate Christian Library Book 2012' will be announced.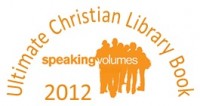 The Ultimate Christian Library Book
The ceremony will be presented by writer and broadcaster David Winter, former head of BBC Religious broadcasting. Nominees shortlisted in this year's adult category include 'Faith under Fire' by Canon Andrew White, who draws upon his experiences of leading the Christian community in Baghdad, and Emily Ackerman's 'A Time to Care', which looks at the practical, spiritual and emotional issues involved in caring for elderly parents. Emily said:
"I am really pleased to have been shortlisted for this particular award, because I set out to write a book about parent caring that would be useful for anybody, and at the same time reveal the riches of the faith in a user-friendly way."
New to the awards this year, is the addition of a children's book award category. Paula Renouf, Director of Speaking Volumes said:
"Children's book borrowing at public libraries has increased over the last six years and almost 80 per cent of five to ten year olds now use the service.*
So it's clear we should celebrate good Christian children's books too and encourage their writers."
The children's list includes 'The Oncoming Storm' by Andrew R Guyatt, a re-telling of the story of Noah in the Bible for a youth audience and , 'The Lion Classic Bible' by Andrea Skevington.
Now in its 12th year, the Ultimate Christian Library Book award scheme is run by Speaking Volumes, an organisation who promote Christian literature and books to libraries, schools and prisons. Their aim is to encourage a wider audience of Christian literature, particularly those with little or no contact with the Church.
Paula Renouf said: "We really want to encourage Christian authors and publishers to think about writing for a non-Christian audience, to engage with a wider audience with the tone and language that they can relate to.
The purpose of the awards is to promote what is best in Christian writing in the UK and to encourage the writing of Christian books."
*Source: MLA (Museums, Libraries & Archives)
April 10th, 2012 - Posted & Written by Riyaza Rodriguez