A British author has a surprise hit on his hands, a Christian radio drama he has written has gone 'viral' throughout West Africa.
Stephen Davies, who is a missionary in Burkina Faso with World Horizons, set up the radio soap opera as part of an outreach program to his Fulani friends and neighbours.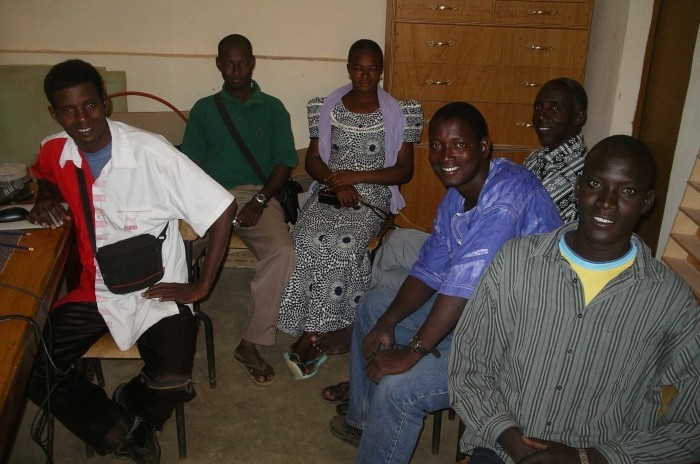 But Davies, 35, who is an award winning children's author never guessed that the dramatized part of his weekly 30 minute show would 'go viral' spreading around the country and beyond on mobile phones and cassettes.
Now everywhere he goes, he hears people quoting from the drama 'Home Life' which was broadcast as part of the show 'Laawol Dartingol' (the Way of Righteousness), and doing impressions of major characters.
World Horizons is an international mission movement which specialises in sending people to 'unreached' people groups. From its UK base in South Wales it mobilises, trains and supports British and Irish workers overseas, as well as a number of people who work in the UK.
Stephen Davies left the UK for Burkina Faso ten years ago, and has based a number of popular children's books there. But despite writing seven books and various articles, he's never had a hit quite like this.
He said: "The shows are a mixture of traditional music, contextualized worship music, bible teaching and drama. It is all in Fulfulde, the language of the Fulani people, who are still a largely unreached people group in the Sahel region of West Africa.
"The dramas aim primarily to entertain, but also as launching-pads for discussion of culture and spirituality. One of our most popular dramas is 'Home Life'.
"Each episode of Laawol Dartingol is listened to by an estimated 100,000 Fulfulde-speakers across Burkina Faso, including 40,000 in the Province of Soum where Fulani are most numerous. The drama element of the shows is also broadcast by stations in Mali and Niger.
"One woman in Burow was buying batteries for her radio, and said that since she became a widow three years ago, Laawol Dartingol is like her family, bringing her company and comfort.
"A teenage boy in Meena recorded five of our dramas onto a cassette and has listened to it so much that he has nearly worn the cassette out. He and his friends can do great imitations of the main character Yero in the darkly comic drama 'Home Life'. Yero is very proud and very deceitful. He gets into terrible scrapes (of his own making) but never accepts that he is responsible.
"Instead he always blames his friend 'Bogga' or his wife 'Inna Moumouni'. He always ends up grumbling to himself, full of self-justification and bitterness. 'You've done it again, Bogga,' he mutters at the end of 'Home Life'. 'Some friend you are, Bogga. Hey, Bogga, even your name is stupid.'
"This sort of pride and self-delusion is very comic in Fulani culture, and indeed in British culture - think David Brent in 'The Office', and everywhere I go I hear people on the street doing impressions of Yero and Bogga. The dramas are spreading like wildfire on people's phones, even the poorest herders usually have phones capable of playing mp3s!
"'A Boggi kam jooninka' (You've really Bogga-ed me this time) is a phrase that now seems to have come into popular usage in our area. It's an ironic accusation rather than a serious one. It implies that the speaker is the one really to blame, and not the accused!
"We want to develop this Yero/Bogga thing. The Christian message has to be bad news before it can be good news; we all need to be confronted with our own capacity for sin and self-delusion before we can understand the joy and freedom of the Jesus Way. Our team of Fulani Christian leaders are already developing a series of new Bogga dramas, to be recorded at the end of February 2012. There is no preaching in the dramas, but there is preaching afterwards - a Fulani pastor reflecting on the content of the drama and offers a biblical meditation about the issues it raises."
Stephen's capacity for writing sparkling drama is obvious, but it appears that there may be something genetic, because he is related to another doyen of radio drama, Vanessa Whitburn, editor of The Archers, the Radio four farming soap.
He said: "When I was growing up, Linda Snell and Eddie Grundy were often my drying-up and putting-away companions, so I am deeply fond of the Archers. I'm passionate about good radio drama and have listened to radio 4 'Afternoon Plays' on and off since I was a teenager. I love reading film scripts, too - anything with good sparky character-driven dialogue.
"I love the wit, wordplay and colourful proverbs of Fulani people in the marketplace, the street and the home. The cut and thrust of Fulani dialogue works really well on radio. I do not write the Bogga dramas, though. They are mostly improvised by the actors themselves, after we have discussed the characters and plot together.
"I find it interesting that The Archers was conceived as 'a means of disseminating information to farmers and smallholders to help increase productivity in the post-World War II years of rationing and food shortages' (or that's what Wikipedia says anyway). I hope that as we develop our own radio dramas we can begin to make them useful in a similar way.
"I would not want the Bogga dramas to become a how-to-farm podcast but there is no reason we cannot include simple development messages within the drama. My dream would be to see it become a daily soap opera that both entertains and informs, just like the early days of the Archers. I would like to see the twing-twang of the Laawol Dartingol theme tune become as well known in Burkina Faso as the tum-ti-tum of 'Barwick Green', the Archers theme tune, in the UK.
"Vanessa Whitburn is my second cousin once-removed so perhaps we share a few drops of radio-drama-holic blood. I last saw her at my wedding in 2007.
"Back in the eighties, when I was a young teenager, I remember talking to Vanessa at another family gathering. I told her I was interested in computers and she jokingly offered me a job, creating a database of Archers characters so they could keep track of storylines and avoid continuity errors.
"The north of Burkina is largely Muslim. Christian-Muslim relations in our area are generally good, but conversion causes real tensions and upset. Whenever a Fulani person decides to follow Jesus, they face the possibility of being ostracized by family and community. We are hoping that the preaching which follows our radio dramas presents the Jesus Way as a viable and attractive way even for Fulani people."
Stephen Davies has written seven children's adventure story books set in Africa: three chapter books, three Young Adult novels and a picture book, all published by Andersen Press, London. His last book OUTLAW was named one of the best books of 2011 by School Library Journal in the US
February 17th, 2012 - Posted & Written by Simon Cross