You would be hard pressed this summer to attend any Christian festival without hearing the foot-tapping, folk sounds of Rend Collective. The 15 piece Christian worship band from Bangor, Northern Ireland have been catapulted from relative unknowns at the start of the decade to phenomenal success with CDs including "Campfire" and "The Art of Celebration". Anyone who attended Soul Survivor in 2013 was left humming "My Lighthouse" for weeks to come.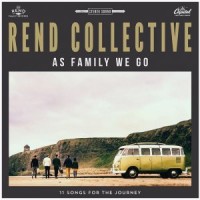 When questioned they maintain they are not an indie-band, instead they describe themselves as a "celebration" band and this month they return with a new record "As Family we Go" which celebrates family. The influence comes from travelling and touring as a family. Not only is the band made up of 15 members which they describe as "not so much a band but a family" they also share their travels with children and spouses.

Amongst the excitement which radiated across twitter, the release of "As Family we Go" was pre-empted with a request from the band to share stories of family- the uplifting and joyful, the gritty and heartbreaking- highlighting that The Rend Collective have not let their success elevate their status. They are living each day in the reality that cultivating and maintaining relationships can be messy and hard work. The album poignantly reflects all aspects of family life and a journey well travelled.

Rend Collective, who since their formation, have gone on to be leading voices in the evolution of modern worship are self-described as a "group of confused twenty-somethings trying to figure out faith, life, God and community"- this could not be clearer in their new album which seeks to foster love, community and journeying as a family.

But the album goes far beyond that, focussing on the all encompassing, father-heart of God and the love he has for his sons and daughters. Upon announcement of the album title the band wrote on their blog: "but more importantly, we belong to a larger family, and that family includes you. The children of God have always been a people on the move, driven by a mission and a purpose. We aren't part of a social club, but we're given a charge from the Father: to share His love with the world". The sneak-peek video for "You Will Never Run" released in July 2015 proclaims the never ending, infinite love of a God who is not distant, but is consistently by our side.

Moreover, they shared: "As Christians we know this world is not our home". This could not be more clear than in their track "Coming Home" - but throughout the album we are reminded that whilst we are on earth we are called to love as a family: to laugh, grieve, encourage, rebuke, celebrate, hug, pray for.

The upbeat tempo, catchy rhythm and powerful lyrics ensure this will be another best selling, not to be missed album.

"As Family we Go" is due to release on 21st August and is also available in a deluxe edition featuring 5 bonus tracks- available for preorder now.


August 17th, 2015 - Posted & Written by Laura White