Every day this Advent we will be sharing reflections from Christian authors. Today's is by David Strutt.

There is some considerable degree of variance with the Christmassy story told in carols and traditional versions, and the real events around Christ's humble birth. The record of Mary and Joseph travelling to Bethlehem, with the mother, heavy with child, to comply with the Roman census was probably less romantic than you might guess from Christmas cards and folksy songs! The Caesar (Augustus) had decreed that all over the Empire, men and their dependents were to register in their birth towns and cities. In these days of online registration and polling it is easy to assume that was a speedy affair but there is not much doubt that it was anything but and may well have involved copious paperwork.
The couple probably set off in plenty of time and then spent a good while there in the city. It was likely that the census also recorded possessions and land entitlements and other information. It would have been a long haul with all available accommodation full for weeks at a time; not a pleasant experience for families with children let alone a mother with child.
I often find myself thinking, could God not have made things a little easier for them? Have you ever been involved in a project that you know the Lord is calling you to but, at every important point, hurdles materialise from nowhere, knotty problems arise and everyone involved becomes exhausted? If you do, reflect for a moment on Joseph's predicament; his wife struggling with early labour pains while he searched, desperate for some accommodation. How would he have felt when nothing materialised? One can only imagine that he wanted to arrange something better for his betrothed than an animal shelter, or perhaps, a cave. But that was where they were staying. The one who was blessed, literally, indwelt by God, found a resting place amid the straw and bedding. But we must trust God's provision; it was right; God does not make mistakes.
"But as for you, Bethlehem Ephratah, too little to be among the clans of Judah, from you One will go forth for me to be ruler in Israel. His goings forth are from long ago, from the days of eternity." (Micah 5)
I appreciate we looked at that verse a few days ago but it strikes me as so wonderful that these days, as Joseph wandered the streets are from the days of eternity. This is no accident, and I am sure it is no coincidence that it is also the place where David spent the days of his youth. God draws together thousands of threads from history; Ephratah is the ancient name for Bethlehem and the surrounding areas; it is where Rachel died giving birth to Benjamin; it is the place where King David caught the vision for building a place for God to dwell. The jig-saw is taking shape under God's hand.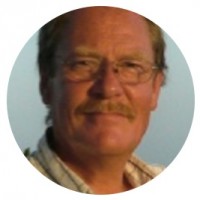 At the age of
21
, David Strutt had a sudden and profound conversion to Christianity. For many years, in parallel to professional work, he worked as a lay pastor and preacher in many churches. In recent years, he began working full-time with the elderly as a pastor, specialising in the spiritual care of the older generation and end-of-life care.
His wife, Alison, died in 2004 and he is now married to Hannah; between them they have nine children and many grandchildren! Together, they have led and spoken at conferences, and minister the love and healing of God. Amongst others, they have also ministered alongside Jen Rees Larcombe at Beauty For Ashes and the Acorn Christian Healing Foundation.
December 5th, 2017 - Posted & Written by The Editor