Every day in Advent 2016 we will be sharing short reflections from authors, Christian charities and Eden team members.

The Joy of Cookies – An American Celebration of Christmas
Wouldn't it be wonderful to spend the season leading up to Christmas in quiet reflection, praying and preparing for Jesus to be born in our hearts and homes? I wish! Instead, during Advent I mix the reflective with the practical as I get ready for the feasts of Christmas.
Being an American who lives in Britain, I've worked hard over the years to ensure that Christmas feels like Christmas in this foreign land. What could feel like a situation of scarcity – the pain of being away from loved ones during the holidays – has evolved into a season of abundance as our traditions have developed and solidified. Finding myself in Britain means creatively enacting the American approach to Advent and Christmas, while learning the British one too. And more importantly, making sure the Christian elements, which transcend any culture, receive the star treatment.
A prime way I make Christmas feel familiar in the foreign-land-that-is-home is to bake Christmas cookies, for they are part of the American psyche. They feature at Christmas parties and coffee mornings; they form the perfect accompaniment to a friend dropping over; they make a tasty and satisfying dessert. And because cookies are still somewhat of an oddity over here, I bake and bake and bake some more. They become our gifts to the church team, friends, and staff at our kids' school, and through their hand-crafted drops of sugar, butter, and flour, they speak of love and tradition and celebration.
Here is the recipe for the star bake in our home at Christmas time – one that has evolved into being named the "Pye Family Favourite." The key, in my opinion, is not to overbake them, for soft and chewy to me is preferable in a cookie to crisp and crumbly.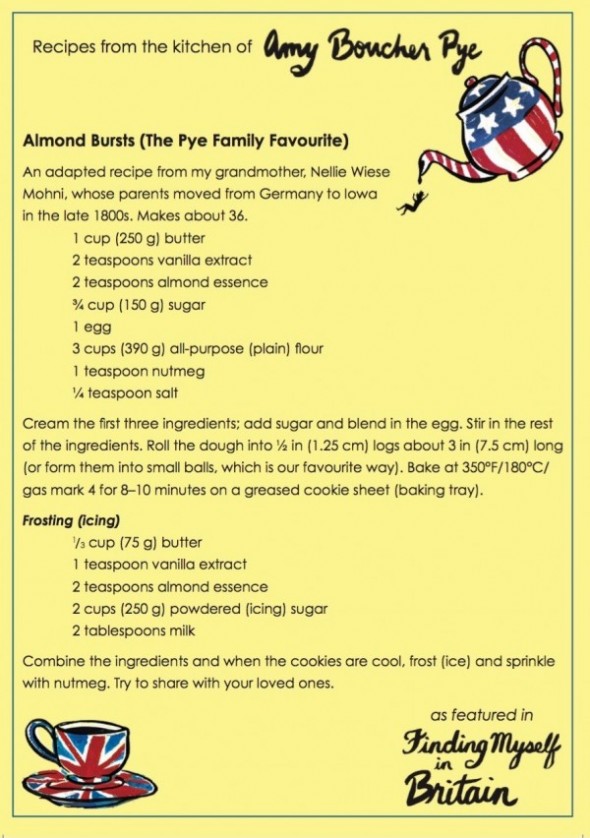 Adapted from Finding Myself in Britain; reprinted with permission.
Amy Boucher Pye is the author of the award-winning Finding Myself in Britain and the BRF 2017 Lent book, The Living Cross. You can find her online at amyboucherpye.com.
December 4th, 2016 - Posted & Written by The Editor