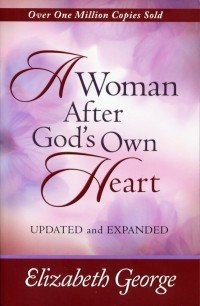 If there is one book for women that you will probably be familiar with it's this one – A Woman After God's Own Heart. With sales of over one million copies it has become a renowned go to book for spiritual wisdom and practical advice for women for all ages and situations.

Elizabeth George has written several books for women on spiritual guidance and how to practically apply that to regular life situations. She has been involved in ministry for the last 30 years with her husband and spends time speaking and encouraging women at Christian events to keep walking with the Lord.
So what is it about this book that has touched the hearts and minds of so many women?

The chapters have been helpfully based around the pursuit of God and His priorities which clearly take readers through such subjects as: God's Word, prayer, serving in the church, at home and with your family. Elizabeth George wants to cover all the bases with this book and once you have grasped the theory she doesn't leave you hanging, in fact quite the opposite.

'If God is going to be first in our hearts and the "Ultimate Priority" of our lives, we must develop a root system anchored deep in Him.- Elizabeth George'

Her style of writing is personable and packed full of analogies and easy-to-grasp metaphors alongside stories of personal experience. There is no façade of perfection or the thought that 'well it's ok for her she's got it all together', she is determined to encourage in a genuine and likeable fashion.

She is also humble, despite her many acclamations and achievements her heart is for the average woman to walk in line with God's heart and purposes.

'Our transformation into being a woman after God's own heart is indeed God's work. But what I offer here are the disciplines we can follow to place ourselves before God'

Packed full of practical advice

Once you have made it through one of the hearty chapters you will be challenged, encouraged and equipped to go out and practise what you have been reading about. Each chapter ends with a 'Heart Response' a chance to reflect on the topic covered with a brief summary. Though there may be examples that do not apply to your life situation, for example you may not be a mother or a wife, many of the principles apply to all women seeking to follow God and live with His priorities.

Written by a woman for women

There are so many Christian life books written but sometimes it's more helpful to have advice and wisdom given from someone who knows and understands the perspective of a woman. This is why it's great to have a book that doesn't just talk emotions but deals with the issues that women face in a direct and Biblically centred way.
With so much personal experience Elizabeth George is a woman who has worked in ministry, been a mum and grandmother, a wife and a woman seeking to follow Jesus and encourage other women to do the same.

So who is A Woman After God's Own Heart really for and why is it worth a read?

Well as the title so aptly suggests it's for all women seeking to live a life that reflects God and His purposes and will. With a readable style this book is likely to speak to women who are at various stages of life but perhaps leans more towards those with families though many of the chapters are helpful and applicable regardless of family position.

I'll leave you with the words of the lady herself,
No woman's life could be more satisfying than the life enjoyed by a woman after His own heart, a woman whose heart's desire is to do God's will (Acts 13:22)!
November 9th, 2012 - Posted & Written by Anna Hockley